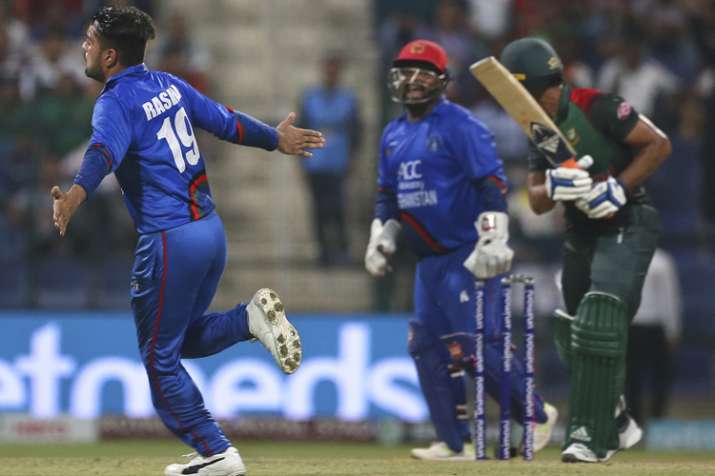 Asia Cup, Match 6: AFG (255/7) beat BAN (119) by 136 runs
Bangladesh vs Afghanistan, Asia Cup Match 6:
Another comprehensive win for Afghanistan! A neat and clean performance to outclass Bangladesh. The Afghans continue with their progress and have once again made a statement. They top their group which in itself is a big achievement and to be honest, the way they are playing at the moment, they can be considered as a title contender.
  (
Click Here to Watch Live Coverage in Hindi
)
Highlights, Bangladesh vs Afghanistan, Asia Cup 2018 Live from Abu Dhabi:
Man of the match, Rashid Khan, thanks Russel Arnold who wishes him for his birthday today. Rashid says he is happy to contribute in all three departments - batting bowling and fielding. Adds further that he wishes to continue with this good form of his. States that they were focusing on every delivery and informs that during their batting their main focus was to take the innings till the end and do their best to put up a big total. Also says they are working hard on their fielding and adds that by putting in some extra effort and focus, they can improve every day in the fielding aspect. Mentions that he always looks to bowl as many dots as possible, build pressure on the batsmen and eventually wicket taking becomes easier. take wickets becomes easier then. Ends by saying that the wicket seems to be changing with every match and hence they just focus on their performance and concentrate on give their 100%.
* Another comprehensive win for Afghanistan! A neat and clean performance to outclass Bangladesh. The Afghans continue with their progress and have once again made a statement. They top their group which in itself is a big achievement and to be honest, the way they are playing at the moment, they can be considered as a title contender.
AFGHANISTAN BEAT BANGLADESH BY 136 RUNS AT ABU DHABI
00.08 IST: Mujeeb Ur Rahman to Rubel Hossain, OUT lbw b Mujeeb Ur Rahman. OUT! Mujeeb wraps it up. He comes back and takes one ball to finish this off. It is just too good for the No.11 as he is totally bamboozled by this googly. He lands this on a length just outside off. Rubel comes forward to block this out but the ball pitches and turns in to beat his bat. He is thudded on the pads, they appeal and the umpire agrees. Afghanistan have dominated this game as they have demolished the Tigers by 136 runs! Bangladesh have been bowled out. Afghanistan win by 136 runs!
00.03 IST: OUT! Rashid runs out Abu Hider for 1. BAN 119/9 in 41.5 overs vs AFG (255/7) in Abu Dhabi.
23.58 IST: FOUR! Mosaddek has looked the most comfortable in the middle. A full toss this time by Nabi, Hossain picks it up and powers it over mid-wicket for a boundary. BAN 118/8 in 40.3 overs
23.53 IST: Powerplay 3 signaled!
23.47 IST: Abu Hider, the debutant, is the new man in.
Hardik Pandya after watching Rashid Khan, The Allrounder !#BANvAFG #AsiaCup pic.twitter.com/iPrBQsRRqL

— Chandler Stark (@SarcasmChamp) September 20, 2018
23.45 IST: OUT! Nabi removes Mortaza for 0. BAN 110/8 in 36.1 overs vs AFG (255/7) in Abu Dhabi.
23.44 IST: FOUR! A bit loose this from Rashid, a rare rare bad ball from this champion leg spinner. He fires it a bit short outside off. cuts it hard through point and finds the gap for the ball to race across the deep point boundary. BAN 105/7 in 35.2 overs
23.37 IST: Mashrafe Mortaza, the Bangladesh skipper, is the new man in. 
23.33 IST: OUT! Starts off with a bit shorter and wide of off delivery. Hasan goes for the extravagant cut. He has to reach for it a bit and cannot control his shot. He ends up slicing the ball straight to the man at point to give Rahmat a wicket on his very first ball of the match.  Rahmat removes Mehidy for 4. BAN 100/7 in 33.1 overs vs AFG (255/7) in Abu Dhabi.
23.31 IST: 100 up for Bangladesh! In the 33rd over at the loss of six wickets
23.27 IST: FOUR! Rashid gives this some extra flight and bowls it too full outside off. Mosaddek makes room and drills his drive through covers for a cracking boundary. BAN 97/6 in 31.3 overs
23.23 IST: Mehidy Hasan is the new batsman in the middle.
23.21 IST: OUT! It was just a matter of time. Rashid Khan has done what Rashid Khan does best, take wickets. This one is kept on a fuller length just around off. Mahmudullah comes forward to block it out but plays the wrong line, he actually plays it inside the line of the ball as the ball beats the outside edge and crashes into the off pole. Mahmudullah cannot believe it as he looks behind to confirm but he has to as the Afghans are seen celebrating and Mr. Khan does the dab celebration which Mr. Kohli and Mr. Rahul are famous for. Big wicket this for Afghanistan and they will look to wrap this up soon now. Rashid removes Mahmudullah for 27. BAN 90/6 in 29.4 overs vs AFG (255/7) in Abu Dhabi.
23.17 IST: Interesting thoughts from Aakash Chopra and Zaheer Khan on air. The former says that he would like to make a bold statement - 'Afghanistan are probably only 2 tosses away from making it to the final of the Asia Cup. Why? Because in Abu Dhabi, the win percentage of teams chasing 250 or more in ODIs is a mere 15.' To this, Zak actually does not agree nor disagree. He simply states that the Afghans have become such a good team that bat or bowl first, does not matter. To be honest, though, Mr Chopra has a point. You can see what is transpiring now. We would love to see what happens if they are forced to chase though. Meanwhile, Dean Jones informs us that the attendance tonight is around 18,000. The capacity is 21K. Talking about percentages, that is a whopping 86 percent.
23.11 IST: 91 kmph and beaten!, and it spins away too. This is tough to handle even for the best in the world. He keeps it on a full length outside off. Mahmudullah looking to play at it misses as the ball turns away and beats his outside edge.
23.04 IST: Good length ball on middle and leg, Mosaddek closes the face of the bat and works it in front of square leg for a couple.
23.00 IST: OUT! Shakib has been dismissed and it's none other than Rashid who jumps in glee! You just can't keep champions out of the game for long. Rashid has got his first birthday wicket and that too the big one of the Bangladesh all-rounder, Shakib Al Hasan. Khan lands this on the leg stump line, Shakib looks to turn it into the leg side is beaten as the ball crashes into his front pad. The Afghans go up in a loud appeal and the umpire obliges soon. No reviews left and Shakib has to go back into the hut. Replays show that it was out.. BAN 79/5 in 23.3 overs
22.52 IST: NOT OUT! The decision stays as it is. Another googly by Rashid has not been picked by Mahmudullah. He lunges to defend but misses to be hit on the pads. They put in an unsuccessful appeal and then go for the DRS. The replays roll in and it shows that the impact is in line but it's clipping the leg stump. Review stays.
* Review time. The batsman is question is Mahmudullah as he is rapped on the pads and is given not out. Afghanistan though think differently and go for the DRS option. 'T' has been signalled and it's time for the replays.
22.51 IST: Shout for an lbw! Not given. Rashid dishes out a googly, landing around middle and spinning in. Mahmudullah fails to defend off his front foot and is rapped on the pads. Too much angle on this one. Missing leg, maybe.
22.50 IST: Flatter and shorter around leg, Shakib picks it off his pads and works it through square leg for a run. Every single is cheered by this crowd. Have to give it to them. The conditions are tough for them too but they are sticking around to support their teams.
22.49 IST: The Birthday boy is given his chance with the ball. How many wickets for him? He's delivered a smashing fifty, only fitting he collects a few wickets.
22.46 IST: FOUR! Long hop gets the treatment it deserved. Good batsmen like Mahmudullah will not let these go by. Shenwari lands this very short in line with the stumps. Mahmudullah is quick to rock back and pull it over the mid-wicket region for a cracking boundary. They need some more of them. BAN 64/4 in 20.3 overs
22.40 IST: Faster and flatter on the middle stump line to end the over. Shakib looking to pull it into the mid-wicket region is hurried into the shot and manages a mistimed pull to the fielder at mid-wicket.
22.37 IST: Nabi is bowling a miserly spell here: 4-0-10-0
22.36 IST: 
Mixing things up a little today with some hindi commentary! #BANvAFG #AsiaCup2018 @jatinsapru @cricketaakash pic.twitter.com/7Dn5Uvz0gF

— Anil Kumble (@anilkumble1074) September 20, 2018
22.30 IST: Aftab to continue. Afghanistan are all over Bangladesh as they have snapped four of their main batters and will now look to run through their line-up as soon as possible. Bangladesh will look to build and strong and long partnership to take them near the target and make a chase out of this. An intense phase of cricket on offer now.
*Drinks break
22.24 IST: 50 up for Bangladesh but they have already lost too many wickets. It's Afghanistan's game to lose from here on.
*Birthday boy Rashid Khan is into the attack now
#BANvAFG
Meanwhile Rashid Khan after scoring a 50 on his birthday : pic.twitter.com/d36yyRZXSu

— Roshan Rai (@RoshanKrRai) September 20, 2018
22.20 IST: FOUR! Edges win matches! As they say - IN cricket, it's not how but how much that matters. Naib keeps it full and around off. Mahmudduah comes forward to have a feel of the ball and tries to push at it. The ball takes the outer edge and runs down fine of third man to go across the ropes. BAN 47/4 in 14.2 overs
*Mahmudullah is the new batsman in the middle.
22.19 IST: OUT! Gulbadin removes Mithun for 2. Dragged and sound of timber! Big wicket this as Mithun is a very solid batsman and Bangladesh needed him to be out there to chase this target down but the right hander fails this time and has to depart. Naib keeps this on a good length just around off and shaping nicely into the batsman. The line and the length is not there to be cut but that's exactly the mistake that Mithun committed. He tries to cut it, gets cramped as the ball lands and cuts in a bit. The ball off the inside edge crashes into the timber behind and that's that to Mithun. BAN 43/4 in 14.1 overs vs AFG (255/7) in Abu Dhabi.
22.09 IST: OUT! Gulbadin removes Mominul for 9. Fantastic use of technology from Afghanistan. They have taken the review perfectly as replay show that there is a faint nick when the ball is passing Haque's bat. Coming back to ball, Naib fires this a bit short of a length angling in from around the wicket. Haque tries to pull it but the angle takes the ball down the leg side and takes a faint edge of the bat and it's pouched safely by Shahzad behind. The Afghans were pretty convinced that there was a nick there but they discussed and went up. Good decision as Bangladesh lose their third and are deeper in trouble now. BAN 39/3 in 12.2 overs vs AFG (255/7) in Abu Dhabi.
22.04 IST: Mohammad Nabi, the experienced offie, comes into the attack.
22.00 IST: Three runs! Well stopped by the skipper! Naib once again is on the shorter side outside off, Mominul rocks back and hammers his pull shot through mid-wicket. Afghan gives it the chase and does exceedingly well to pull it back before the rope. Saves a run for his team. BAN 34/2 in 10.2 overs 
*Powerplay 2 time! Afghanistan can now have a cushion of one extra fielder in the outfield. A total of 4 fielders now allowed outside the 30-yard circle until the 40th over.
21.53 IST: Gulbadin Naib to bowl. A slip in place.
21.50 IST: Aftab Alam is going off the field. Probably is done with his first spell.
21.44 IST: Mujeeb completes a maiden over! Two maidens in a row. Pressure building.
21.40 IST: Mominul Haque is at the crease
21.38 IST: OUT! Aftab Alam removes Liton Das for 6. That's plumb in front. This is extraordinary bowling by Aftab Alam. He kept on bowling those inswingers to trouble Liton and eventually gets him out. BAN 17/2 in 4.5 overs vs AFG (255/7) in Abu Dhabi.
21.35 IST: Shakib Al Hasan is the new batsman.
21.31 IST: OUT! Another googly has outfoxed the batsman. Mujeeb drops it on a fuller length around middle and off, Nazmul runs down the track and tries to heave it over the leg side. But the ball turns away to gather the top edge. It balloons in the air and Aftab Alam makes no mistake at backward point. Mujeeb draws first blood as he normally does. Great bowling by him. 241 needed off 278 balls. Mujeeb removes Nazmul Hossain for 7. BAN 15/1 in 3.4 overs vs AFG (255/7) in Abu Dhabi.
21.28 IST: Aftab Alam to Nazmul Hossain, An overpitched delivery wide outside off, it's driven through covers and Rashid gives the chase from the ring. He pulls it back before the fence and saves two runs for his side. BAN 14/0 in 3 overs.
21.21 IST: Mujeeb to operate from the other end
21.20 IST: Nearly a run out first ball! What a start to this run-chase. A gentle loosener by Alam first up. He sprays this one down the leg side and Shahzad is quite lazy to get to the ball. It rolls down to fine leg and they cross. The batsmen eye the second run but Liton decides to send his partner back. Hossain dives in. The replays later on shows that had the fielder (not the keeper) who has come up to the stumps gathered the throw cleanly, it would have been curtains for Nazmul.
21.14 IST: Aftab Alam to start the proceedings for Afghanistan
21.12 IST: Afghanistan, on the other hand, defended a similar kind of a total against Sri Lanka and they will back their bowlers to do the job again. Who will win the last game of the group stage? Stay tuned to find out.
21.10 IST: The total is not going to be an easy one to chase and with a lot of their premier batsmen missing, Bangladesh will need a special knock from one of their main batters, if they are to pull this off.
* WOW! What a power-packed performance there by Afghanistan, 97 is the amount of runs they scored in the lat 10 overs, courtesy a 95-run stand of just 56 balls between Rashid and Naib. The two walk off to a standing ovation from the crowd and their teammates and the two have ensured Afghanistan have a total which I believe is above par on this surface.
20.37 IST: Afghanistan 255/7 in 50 overs against Bangladesh at Abu Dhabi. Shahidi 58, Rashid 57*, Shakib 4/42
20.36 IST: FOUR and FIFTY! Rashid scores his third ODI half-century. Two in two for the birthday boy. He looks in smashing form today. Will surely take this confidence into his bowling as well. He gives the charge and skips down the ground, seeing this the Bangladesh skipper bangs it in, slower in pace. Rashid does well to wait for the ball to arrive, swivel and pulls it behind square to races across the backward square leg boundary for a second in the over. It is looking good now for the Afghans as they race ahead. The flamboyant Rashid Khan at it again.
20.39 IST: FOUR! Bang and Rashid is now in his forties. He has really troubled the bowlers. AFG 241/7 in 49.2 overs
21.22 IST: FOUR! 17 from the over and this boundary is the best of boundaries Rashid has scored today. The slower ball on middle, Khan makes room and slaps it over the cover fielder and the ball races away. RK moves onto 36 in no time. AFG 229/7 in 48 overs
20.21 IST: FOUR! And to add to that Mortaza has overstepped. What a shot! Picked his spot to perfection there did Rashid Khan! He comes down the track and takes it on the full. Lofts it over mid off and bags a boundary. Free Hit coming up. AFG 222/7 in 47.4 overs
20.16 IST: FOUR! Sweep shot by Naib and that brings up their fifty partnership. The duo have really frustrated Bangladesh. The last ball spoils the over! Top shot by Naib. He walks right across and Hider bowls a yorker. Naib at the very last moment, gets his bat down and flicks it through square leg for a boundary. The 50-run stand is up and it has come up in quick time, in 37 balls. The momentum changing partnership you can say. AFG 212/7 in 47 overs
20.14 IST: WIDE! But to be honest Hider was a touch lucky there! He bowled a slower ball down the leg side. Rashid goes for the sweep and had he connected it would have been a boundary as the fine leg was in. He does not and the umpire signals it as a wide.
20.11 IST: In the air... but safe! A brace more importantly! This is short and on middle, Khan tries to pull but gets a top edge which lands in the vacant mid-wicket area. The batsmen take two.
20.09 IST: 200 up for Afghanistan. They've done it. What a few overs it has been. Naib and Rashid are pulling out the big guns. Also, the 4th fifty has come of the fewest number of balls. AFG 201/7 in 45.5 overs
20.04 IST: SIX! Massive! The birthday boy is bringing the fireworks himself. He has picked the bones out of that one! Uff! What a shot! 15 from it and 2 balls are yet remaining. Another bouncer, Rashid maybe expecting it this time as he pulls it right off the middle and over the square leg fence. AFG 196/7 in 44.4 overs
20.03 IST: FOUR! Second in the over! Not convincing but Rashid won't mind at all! A bumper on middle, Rashid goes for the hook without watching the ball, he gets a top edge and the ball races to the fine leg fence. 9 runs already from the over, they can now make this a big one. AFG 190/7 in 44.2 overs
20.02 IST: FOUR! Cracking shot by Naib. Finds the gap once again and times the shot. Welcome back into the attack. A boundary of the very first ball which means pressure on the bowler. The slower ball on middle, Naib picks it, waits for it and hits it through mid-wicket. No fielder in the deep and it races  AFG 185/7 in 44.2 overs
19.58 IST: A stifled appeal but not given! On middle, it is the straighter one. Rashid tries to defend but gets an inside edge onto his pads.
* Mashrafe Mortaza comes into the attack.
19.57 IST: Now Rashid works it with the angle towards square leg to end Shakib's spell with a single. So 7 of Shakib's last over. A bit expensive by his standards today. Nevertheless, he has been brilliant till now with figures of 10-1-42-4.
19.55 IST: FOUR! The birthday boys with a boundary! Well, Rashid maybe has different ideas. He goes down on one knee and connects the sweep. The ball races through the backward square leg region for a boundary. AFG 176/7 in 42.4 overs
19.53 IST: FOUR! Another one by Naib. 200 in sight?. AFG 170/7 in 42 overs
19.52 IST: FOUR! Hammered by Naib. Clean strike! Up and over the mid-wicket region for an important boundary for the batting team. They need more of these. Abu lands this on a length around off and coming into the batsman. Gulbadin swats this on off the front foot over the mid-wicket region to get a handsome boundary. AFG 166/7 in 41.5 overs
19.46 IST: OUT! Shakib removes Nabi for 10. His fourth of the match. Pretty much plumb in front. Nabi had decided to go for the sweep before the ball was bowled. He goes down to sweep and may be seeing this the wily left-arm spinner keeps it a bit fuller attacking the stumps. Nabi swipes his bat in full force but misses the ball to get rapped in front. The Tigers go up in unison and the umpire raises his finger to signal the route towards the dressing room to Nabi. AFG 160/7 in 40.5 overs
* Powerplay 3 has been signalled. A total of 5 fielders are now allowed outside the ring till the end of the innings.
19.41 IST: FOUR! Smashed down the ground. A boundary to welcome the youngster. Putting pressure staight waway to start the over in a ideal manner. Hider fires this full on off. Naib, in attacking mode now, is waiting for it and launches into it as he sees it dishes fuller in length, drives it straight down the ground with a lot of power for the ball to beat the mid off inside the circle and the ball races across the straight boundary for a very timely boundary for Afghanistan. AFG 156/6 in 39.1 overs
19.42 IST: Tossed up around off, Nabi tries to blast it towards long off but gets a leading edge and the ball goes towards long off instead to allow the batsman to stroll across for a single.
19.37 IST: Nabi tries to get to the pitch and drive hard but does not get right to the pitch and hence has to check his drive towards mid on.
19.32 IST: Yes, he can! A wicket-maiden. Fuller in length and on off, the batsman drives it to mid on. Excellent by Rubel.
* Gulbadin Naib is the new batsman.
19.30 IST: OUT! EDGED AND GONE! The set batsman, Shahidi is walking back. Big blow to Afghanistan. Rubel Hossain strikes. He bowls this on a length and makes good use of the angle as he slants it away from the batsman. Shahidi tries to guide it but the ball skids through, takes the bottom edge and Liton Das takes a good low catch. The players appeal and the umpire obliges. Shahidi walks back in disgust and Bangladesh will now look keep Afghanistan under 200.. AFG 150/6 in 37.1 overs
19.25 IST: Good ball, keeps it in the corridor around off, Nabi is good enough to keep it out off the front foot.
19.20 IST: Good start by the Bangladesh captain as he fires this one on a good length around off. Nabi. trying to push at it, gets a thick edge and the balls runs down towards the third man region. The batsmen have come back for a brace.
* Drinks. So, Afghanistan have moved on well but have also lost half their side in the process. They will look to finish strong and get a respectable score on the board.
19.13 IST: OUT! Shakib finds the stumps once again. His third of the match and Shenwari is sent back for 18. Goes across the line and pays the price. The pressure was building as the soundalikes have dried up and this may be led to a wild slog by Shenwari. He seems the flight on that on and goes across to slog it towards the mid-wicket region looking for a maximum. He was completely done in the flight by Shakib as the ball lands and skids straight through, under the batsman's bat to hit the wooden sticks behind. Shenwari goes back early. AFG 139/5 in 33.2 overs
19.07 IST:  FOUR and FIFTY! Hashmatullah Shahidi scores his 3rd ODI half-century. Swept for four. Shahidi looks set for a big one now. He goes down on one knee, looking to sweep the tossed up ball. Connects excellently to find the gap through square leg for a cracking boundary. AFG 135/4 in 31 overs
19.02 IST: FOUR! Again the sweep shot has been played really well! Shakib bowls it on the pads, Shenwari goes down on one knee quickly and sweeps it through backward square leg and the ball races away. AFG 127/4 in 29.4 overs
18.57 IST: BEATEN! Good work by the keeper also. This is full and outside off, Shenwari goes for the drive but is beaten. The keeper collects the ball and whips the bails off in a flash. He appeals but Shenwari never left his crease.
* Shahidi has however, hurt himself after putting in a dive. The physio is out and he is down on the ground. He is now fine and ready to go.
18.54 IST: Good running! Shortish and outside off, the batsman cuts it through point. They run the first one hard, Shahidi wants the second and they go for it and makes it easily. The keeper does whip the bails off after collecting the throw but the batsman is in.
18.50 IST:  A chance but Rubel is a touch slow. Shakib is not happy. The fielder was on his heels there. It is tucked straight towards him at short fine leg. The batsmen go for a run and due to the fielder getting to the ball slowly they complete it.
18.49 IST: FOUR! Swept and swept fine! Not seen this shot played a lot today but this has been done really well. Shahidi sits down on one knee and swipes it through square leg. No fielder in the deep and a boundary results. AFG 105/4 in 26.2 overs
18.45 IST: OUT! Bamboozled! That has gone just through him! Shakib gets his second and once again in this tournament, the Afghan skipper goes for a low score. He uses his feet like he has been doing till now but is not quite to the pitch of the ball. It is the straighter delivery by the bowler, it also drifts into the batter. Afghan tries to force it through the off side, leaving a big gap between bat and pad. The ball sneaks through and hits the off pole. A calm celebration by Shakib and they are on top now. AFG 101/4 in 25.1 overs
18.43 IST: 100 up for Afghanistan. It's taken them exact 25 overs to get there. Been a rollercoaster ride so far for the Afghans, but they're giving it their all. 
18.41 IST: FOUR BYES! Poor by the keeper there! Mosaddek tosses this up on off, Shahidi tries to force it through the off side but misses. The keeper also does not connect it and the ball races to the third man fence. AFG 97/3 in 24.2 overs
18.40 IST: Tickled very fine and down the leg side, the batsmen run two. That was nicely played, he moved outside off, to make that shot possible.
18.35 IST: HOWZZAT? But not given! Interestingly no review also. Why interestingly, because the appeal was a very confident one. It was quicker and shorter outside off, Shahidi goes for the cut but misses. The keeper and the bowler put out a loud appeal but not given. Ultra edge shows the ball making contact with the pad. 
* Well, Mehidy was all set to bowl but Mortaza says I want a chance and he gets on Mosaddek Hossain.
18.28 IST: Flatter and around off is punched through to long on. The fielder there fumbles but the batsmen were just not looking for a brace, cannot take advantage of the mistake.
* Asghar Afghan is the new man in.
18.25 IST: OUT! What a catch! Shahzad has thrown it away. One shot too many by the opener. He was going hard but having got a boundary on the last ball, this was not needed. Trying to be greedy. But credit to the fielder for taking an excellent catch. Any guesses who it is? Abu Hider, impressed with the ball earlier and now making no mistakes in the field. He can't do anything wrong until now. MS uses his feet and tries to clear the long on fence. He does connect well but does not get the desired elevation. Hider there, makes good ground to his left and takes it in motion with his hands stretched above his head. He throws the ball up in the air in delight as the Bangladesh players charge towards him. They are ecstatic as they have broken the stand which was just about starting to flourish. Shahzad walks back disappointed after getting a start. Afghanistan will need to re-build again. AFG 79/3 in 19.3 overs
18.24 IST: FOUR! Once again Shahzad smashes this one on the backfoot on Shakib's delivery. Poor ball and Shahzad pounces on it! This was a half-tracker, a nothing delivery by Shakib. Shahzad had all the time in the world to rock back and pull it through mid-wicket for a boundary. AFG 79/2 in 19.2 overs
* Shakib Al Hasan is brought in. 
18.20 IST: BEATEN! Seeing the line of the delivery is outside off, Shahidi goes for the sweep but is beaten by the low bounce.
18.19 IST: FOUR! Ends the over with a cracker of a shot.That is right off the middle. This is on a length around middle, Shahzad goes back and pulls it over the mid-wicket fence for a boundary. The opener now seems to have decided to stop on the gas. Intent could be seen on the last two balls faced by him. BAN 71/2 in 18 overs
18.16 IST: Nearly another RUN-OUT! Outstanding work there by Mashrafe but he just could not get the direct hit! Shahzad was no where near to making it in. This is on a length and around middle, Shahidi pushes it towards the left of the bowler. Mashrafe, not known for his agility, dives full length to his left, stops the ball and then has a shy at his end but misses. The batsmen take an overthrow.
Drinks. A good start by Bangladesh and their bowlers are not letting the Afghan batsmen get away. Afghanistan will hope that the current stand between their attacking keeper-batsman and the elegant southpaw, Shahzad and Shahidi, will extend this unbeaten 35 run stand further and take their team onto safer shores. TheTigerss will look to break this partnership as soon as possible and make further penetrations into the Afghanistan batting line up.
18.13 IST: A lot of excitement by the bowler there but it has been cut short by the umpire. Shahidi steps down the track and Hasan bowls the arm ball. He misses the drive and gets hit on the pads. The ball rolls towards short third man and the batsmen take a run. The impact was outside off.
18.06 IST: FOUR! So runs have no started to come here for Afghanistan! This is a solid punch by Shahzad. It is shorter on middle, MS, off the back foot, punches it past the bowler and the ball races away to the fence. BAN 59/2 in 15.4 overs
18.01 IST: FOUR! Shahzad smashes that on the backfoot. Good use of the legs to hammer that deep through mid-wicket. A boundary after nine overs, an indication of how disciplined have the Tigers been. He bowls this a bit short and Shahidi seeing the rare bad ball, rocks back and pulls it handsomely over the mid-wicket region for a confidence boosting boundary. BAN 51/2 in 14.3 overs
17.57 IST: One run of the over again. Their strike rate is currently 3.34. The Afghans can surely feel the heat. 
17.56 IST: A couple to finish! On the shorter side on middle, Shahzad punches it down towards long on for a brace.
17.52 IST: Again only a single! Boundaries are very hard to come by at the moment. Shahidi guides it down towards third man and gets to the other end.
17.50 IST: Single run conceded in Hasan's over. 
* Powerplay two has been signalled. Maximum of four fielders are now allowed outside the 30-yard circle till the end of the 40th over.
17.39 IST: 3 Runs. A chance for another wicket! Shahidi pulls this by getting back quickly but does not getting the desired connection. The fielder at square leg does well to chase it down and quickly throw the ball towards the striker's end. The batsmen have started their third run, which looks very tight. It is a relay throw and the fielder cutting in between catches it and has a shy at the striker's end. Replays show that Shahzad was just short of his ground and would have been a goner if it would have hit. AFG 34/2 in 8 overs
17.33 IST: Mehidy Hasan is into the attck early to try his off-spin
Talent and confidence of Aghanistan Cricket team reminds me Sri Lankan teams of 90s, Afghanistan just need Super Stars like Jayasuriya, Murali and Vaas etc. Bright future ahead for @ACBofficials

& Bangaldesh surely on the rise with every passing year.
#BANvAFG #AsiaCup2018

— Abdul Ghaffar (@GhaffarDawnNews) September 20, 2018
17.31 IST: Hashmatullah Shahidi is the new batsman.
17.30 IST: OUT! Abu Hider removes Rahmat for 10. Bowled'em! What a peach from the debutant. He must have dreamt about this many times and his hard hard is paying off now. Dished it on a length outside off, it is angling in to Shah as he comes forward tentatively looking to drive at the ball. The ball comes in on landing and goes through the gap between the bat and pad and the timber behind is disturbed. Hider is over the moon as he gets his second. fantastic start for the Tigers. AFG 28/2 in 5.5 overs vs BAN in Abu Dhabi.
17.26 IST: Rubel Hossain to Rahmat Shah, Nicely driven, getting low and driven through the line, timing is enough to get the batsman a comfortable three. AFG 26/1 in 4.5 overs
17.22 IST: FOUR! Smashed! Nice start for Rahmat as he rocks back and across to this short delivery on off, pulls it handsomely through mid-wicket to get his first boundary. Up and running is Shah. Looks like he has started from where he left off the other day.  AFG 23/1 in 4.3 overs
17.17 IST: FOUR! Streaky! But Shehzad will take it with both hands. is a bit short of good length outside off. Shehzad, seeing the width on it, flashes hard but gets a thick outside edge through the vacant second slip cordon for the ball to race through fine of the fielder at third man for a boundary.  AFG 17/1 in 3.1 overs
*Rahmat Shah walks into bat in his 50th game.
17.10 IST: OUT! Abu Haider removes Ehsanullah for 8. Smashed but a sharp catch at cover-point. Hider is a lucky this time as he dishes out a short of a length delivery outside off. It was here to be cut and Ihsanullah does exactly that. Connects well too but the placement is poor as the ball flies at waist height to point where Mohammad Mithun takes a good catch. The ball was not too far away from him but boy was it traveling! Bangladesh strike early. Can they make further inroads? AFG 10/1 in 1.4 overs vs BAN in Abu Dhabi.
17.08 IST: FOUR! One bring two, boundaries this time. Hider overcompensates and strays this length ball on his legs, Ihsanullah flicks this uppishly through the mid-wicket region and the timing takes the ball racing through to the boundary.  AFG 10/0 in 1.3 overs
17.07 IST: FOUR! Cracker! That's the first boundary there for Afghanistan and a good one at that too. Hider keeps it a bit short and wide of off. Ihsanullah goes back and across and cuts this fiercely through the gap through covers for a smashing boundary and a cracking start for the opener. AFG 6/0 in 1.2 overs in Abu Dhabi
17.06 IST: Debutant Abu Haider to bowl from the other end to Ehsanullah.
17.00 IST: Rubel Hossain to bowl to Md. Shahzad. Right on the money is Rubel as he lands this fractionally short of a good length. Kept out on the back foot by Shehzad.
Yesterday India made record of winning two matches within 24 hours and tomorrow bangladesh has a chance of losing two matches in 24 hours if they lose today!!! Go for it bangladesh #BANvAFG #INDvPAK #IndvBan #AsiaCup2018

— Pinch Hitter 🇮🇳 (@Anku_2052) September 20, 2018
16.55 IST: The national anthems are being played out right now with the players lined up on the field.
16.50 IST: A dead rubber or a chance to get the all-important winning momentum and march ahead into the tournament? Both teams, including their fans, will dearly want to win and have a clear edge heading into the eliminator. One thing we are sure to witness is a hard fought battle between two super passionate and skilful teams. So, who will have the last laugh at Sheikh Zayed Stadium in Abu Dhabi? Let's find out...
16.33 IST: Here are the playing XIs for today's match - 
Afghanistan: Mohammad Shahzad(w), Ihsanullah Janat, Rahmat Shah, Asghar Afghan(c), Hashmatullah Shahidi, Samiullah Shenwari, Mohammad Nabi, Gulbadin Naib, Rashid Khan, Aftab Alam, Mujeeb Ur Rahman
Bangladesh: Liton Das(w), Nazmul Hossain Shanto, Mohammad Mithun, Shakib Al Hasan, Mahmudullah, Mosaddek Hossain, Mehidy Hasan, Mashrafe Mortaza(c), Abu Hider Rony, Rubel Hossain
*Captain's talk -
Asghar: We will bat first. Samiullah Shenwari is playing today. That's the only change. I think it will be a good batting track and we are looking at a score around 250.
Mortaza: We would have batted first as well. We have made three changes. Tamim Obviously is not here, Mushfiqur and Mustafiz are not playing. Two debutants Abu Hider Rony, Nazmul Hossain Shanto. And another one...er! I have to check. Looks to be a good wicket to bat on and hopefully it will get better. We have to restrict them to a low total and build pressure on them. Our batters have to step up because they are experienced and we have to handle it well.
16.30 IST: Afghanistan have won the toss and decided to bat first!
16.27 IST: Whoever tops the group will head into the Super Four stage with momentum, confidence, exuberance and stronger belief on their side. The two teams will rely on their star players to step up in the Abu Dhabi heat and give it all. The Sheikh Zayed Stadium will hopefully fill up to the brim to enjoy all the live action. We'll be around as well to enjoy the contest as much as you do.
16.18 IST: The group stage of the Asia Cup is coming to a close with the last encounter between Afghanistan and Bangladesh. This is a dead rubber considering both the teams have qualified for the next stage, however, one can't deny the fact that both, previously termed as minnows, will look to assert domination over one another.
16.00 IST: Just a head's up, it's Afghanistan's golden boy's birthday, Rashid Khan. How many candles (wickets) will he blow off today?
He is one of the most impressive spinners in the world and ranked number one in ICC T20I rankings and number two in ICC ODI rankings.
Happy 20th Birthday, @rashidkhan_19 ! pic.twitter.com/tUGz4TkcIK

— Afghanistan Cricket Board (@ACBofficials) September 20, 2018
Hello and welcome to our live coverage of today's match as Bangladesh take on Afghanistan at the Sheikh Zayed Cricket Stadium in Abu Dhabi. The Toss will take place at 4.30 PM IST and the Match will begin at 5.00 PM IST.
India vs Pakistan Match Report: India were rarely tested in a dominating eight-wicket win over traditional rivals Pakistan in their group match of the Asia Cup on Wednesday. At Dubai International Stadium, captain Sarfraz Ahmed's decision to bat first after winning the toss backfired when a disciplined Indian bowling attack wrapped up the Pakistan innings for a meagre 162 in 43.1 overs. (Read Full Report Here)