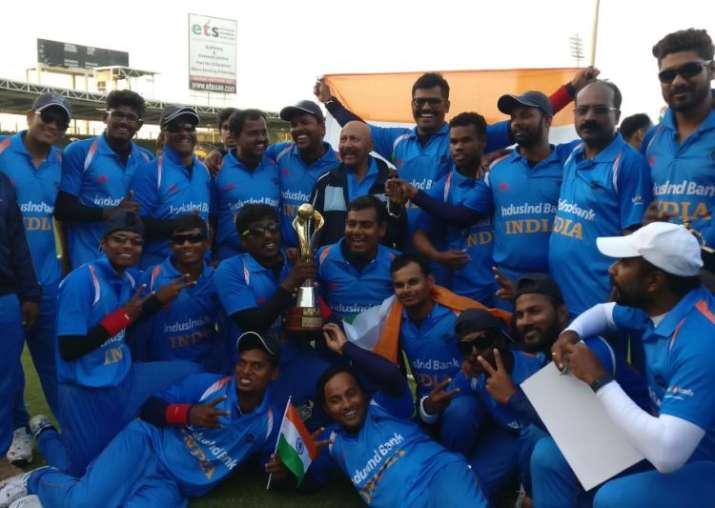 The Cricket Association for the Blind in India (CABI) on Friday sought support from the BCCI regarding infrastructure and financial security for its players.
Last month India defeated Pakistan by two wickets to lift their second Blind Cricket World Cup title in Sharjah.
"In the last few days there have been positive discussions happening between CABI and BCCI. COA Vinod Rai personally congratulated us and said what BCCI is planning to do for blind cricket," CABI president Mahantesh GK said during a press conference.
Mahentesh said he and CABI general secretary John David met BCCI CEO Rahul Johri, who was "positive about a possible collaboration".
"We are waiting for some of the major announcements. One of (the) request is recognition and support to our blind cricketers who have played in the past. The support from BCCI means a lot for us to take this game forward," Mahantesh added.
"Cricket grounds are one of our major challenges and we have requested for that also. Some of the major support we requested Rahul ji (was in terms of) infrastructure, we don't have grounds and it is difficult and during coaching camp we had to hire grounds, we have requested BCCI to allow us to practise in BCCI infrastructure.
"The second one is security to the (visually-challenged) players who have played in the past, someone of them could not get jobs and the players are great fan of (Indian) cricketers and we requested Rahul ji to organise a meet and greet session. And financial support to CABI," Mahantesh explained.
Mahantesh though maintained that they would like to retain CABI as a body.
"We would like to retain CABI because we have World Blind Cricket Limited, which governs blind cricket globally. We met (ICC CEO) David Richardson and I am asking him to affiliate World Blind Cricket with ICC. He is keen and said they are working out a new strategy," the CABI chief said.
"To be a part of World Blind Cricket, it is important for India to have Cricket Association for the Blind in India, we don't mind being part of BCCI, but having its identity and entity separately," Mahantesh said.
The CABI president also said that some of the major visually-challenged teams like Pakistan and England have been fully recognised by their cricket bodies.
He signed off claiming that the BCCI has said it will reward the players and the organisation following the World Cup win.