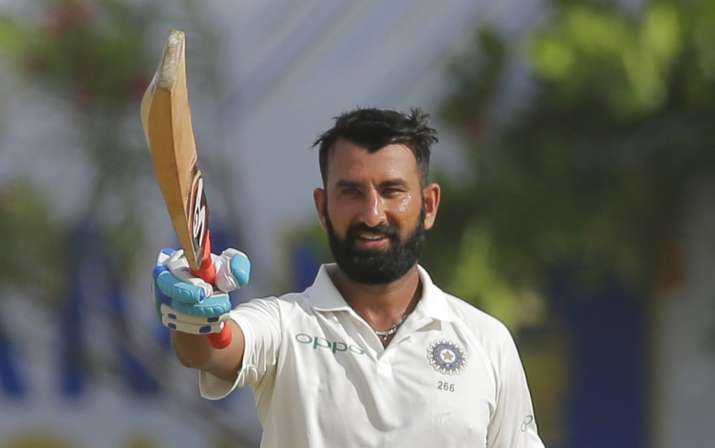 Cheteshwar Pujara is one of the most prolific batsmen in the world when it comes to the longer format of the game. Since making his comeback into the Indian team after being dropped for the West Indies tour last year, Pujara has emerged as the team's highest run-getter in Test cricket. In fact, in the period from August 18, 2016, until now, the gutsy right-handed batsman is the highest run-getter in Test cricket. Pujara has scored 1469 runs at an average of 66.77 in the 15 Tests he has played which includes five hundreds and eight-half centuries. 
In the ongoing Galle Test, Pujara played a brilliant knock of 153 that helped India to post monstrous first innings score 600 against Sri Lanka.
On Day 2, the visitors further strengthened their grip on the Test match, as they reduced the hosts to 154/5 by the time stumps were drawn.
During the press conference after the second day's play, Pujara was asked about what keeps him going, to which he replied:
"Whenever I play cricket, at the international level or first class level, I enjoy this game. I don't need any extra motivation as far as cricket is concerned. I love playing this game, I love my batting."
"Whenever I get an opportunity to score runs or to do something on the field, I always like that challenge and I am always very well prepared. I trust on my preparation and work hard on the same. Whenever there is a challenge, I am always up for it," he added.
Cheteshwar Pujara also spoke extensively about the benefits of playing in England's County cricket which he believes teaches you a lot and helps you grow as a cricketer.  
"Playing County cricket is always challenging. So you never get easy runs. Most of the times, you are playing on challenging wickets. So as a cricketer, it teaches you a lot. You grow as a cricketer, your technique improves and when you come and play international cricket again, you have some experience of playing first-class cricket and you are always in touch with the game. So playing some County games did help me," Pujara, who played for Northamptonshire, said. 
"I played about four County matches which always helps. When I have some time in between Test matches and if I am not part of the IPL, I prefer to go and play some County matches. It gives me exposure, playing in different conditions, facing different bowlers," he added. 
Pujara and Shikhar Dhawan, who scored 190 runs, had added 253 runs for the second wicket on day one after India won the toss and opted to bat first. Their partnership was crucial in setting up this huge total and helped the team attain the driver's seat in the Test.
"The way my partnership was with Shikhar Dhawan, I think both of us batted really well, especially him. The way he started off yesterday, it was challenging for him, he was making a comeback and the way he batted, and it was a pleasure to watch from the other end. 
"Playing against spin, I think as Indian batsmen, we have enough exposure playing in the domestic circuit. That is the reason all our batsmen have been batting well. 
"When you start off well, it always put the opposition on the back foot. We stuck to our strength, we focussed on the things that we wanted to and we excelled as a team," Pujara signed off.
In his impressive Test career so far, the 29-year-old has amassed 3942 in 49 Tests at an average of 53.27. He has scored 12 centuries, with a top score of 206*. Currently, Pujara is among the best number three batsmen in the world and going at this rate he would further cement his position in the top bracket of cricketers in the years to come. 
(With Agency Inputs)