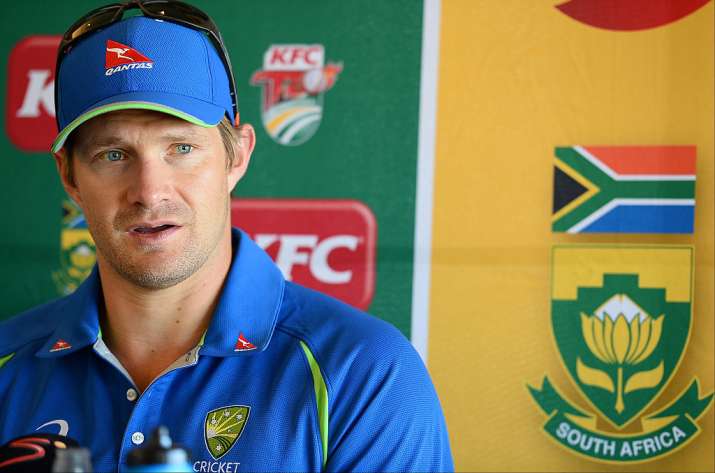 Former Australian all-rounder Shane Watson feels it was stupid and ridiculous on part of Steve Smith and David Warner to get involved in the infamous ball-tampering row in Cape Town which rocked Australian cricket. Watson, however, was of the opinion that the one-year ban received by Smith and Warner was too long.
Watson, who recently helped Chennai Super Kings win the IPL 11 by slamming a century in the final against Sunrisers Hyderabad, was speaking at off-spinner Harbhajan Singh's show "Bhajji Blast".
Bhajji asked Watson whether he agrees with what happened to Smith and Warner in the aftermath of the ball-tampering row.
"Do you agree to what happened to Steve Smith and David Warner. They got banned for a year... which I feel was way too much," Bhajji asked.
Replying to Harbhajan's question, Watson said: "Yeah... look, in the end, there's no question of what they did was very stupid. It was ridiculous. To think that you would take a foreign object onto the ground to be able to change the condition of the ball is ridiculous."
Smith and Warner have been banned from playing for Australia or for their provincial teams in the national competition for 12 months by Cricket Australia following the ball-tampering scandal during a Test match in South Africa in March. 
Smith and Warner accepted the one-year bans from representative cricket following a Cricket Australia investigation into an attempt by their teammate Cameron Bancroft to change the condition of the match ball during a match against South Africa in Cape Town. 
Bancroft was suspended for nine months. The suspensions were significantly harsher than any sanction ever imposed by the International Cricket Council for similar offenses.
Watson said it was "bad decision-making" and must have been done "under pressure".
The entire incident garnered a huge public outcry and forced even the Australian Prime Minister to comment on it.
"Like that's... and also getting a young guy to do it is... yeah. Obviously, that was just under pressure, bad decision-making. There's no question about that. But then what happened after that with our Prime Minister of Australia commenting about it... And so many other people... In the end, it became hysterical in Australia. 
"And then the general public were just going crazy over it. It's so sad because as soon as Steve Smith... I know these guys were very remorseful about what they did. Because I know that man and everyone makes mistakes. Some are just bigger than others. You know some are more public than others. 
"As soon as everyone could see how upset they were that they made a mistake, the Australian public changed straight away and said: Actually everyone does make mistakes. So... and then if that was the sentiment that everyone had when Cricket Australia are making the decision of how long the ban was... 
"I've got no doubt that the actual ban would have been a lot less. Not because CA made it when everyone's in a frigging feeding frenzy. They made it very emotionally. And 12 months is a long time," Watson said.
Meanwhile, CA's ban doesn't apply to lower-tier club competitions or foreign leagues, making the former Australia captain and vice-captain eligible for the Toronto-based Twenty20 tournament that starts June 28.