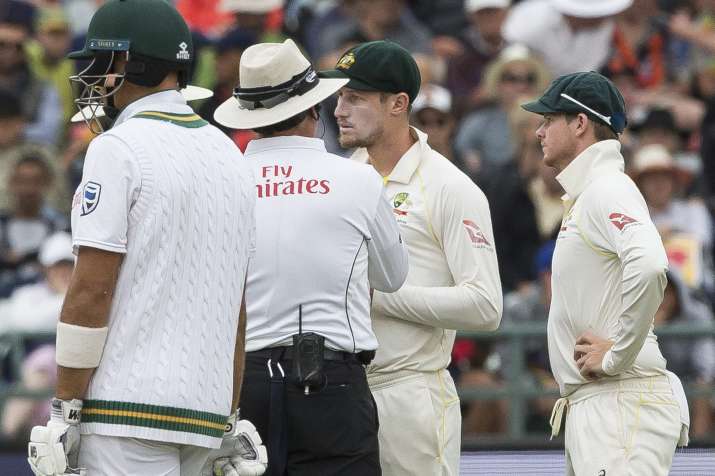 After Australia captain Steve Smith admitted to ball-tampering, adding that Cameron Bancroft did this through a plan drafted by the "leadership group", former South Africa cricketer Fanie de Villiers claimed that their cheating act in Cape Town in the third Test isn't a first-time offense. (Also Read: Ball-tampering row: Smith set to be stripped of captaincy, Lehmann to resign as coach)
According to the reports published in South African media, de Villiers, who was doing commentary during the match, was suspicious of something wrong as the Smith-led side was managing to produce an unusual reverse swing in unfavourable conditions throughout the South Africa Tour. (Also Read: What is Ball Tampering and How It is Done)
In an attempt to catch them in red-handed, de Villiers asked the camera persons present at the stadium to keep an eye out on the Australian fielders.
"It's impossible for the ball to get altered like that on cricket wickets where we knew there was grass on, not a Pakistani wicket where there's cracks every centimetre. We're talking about a grass-covered wicket where you have to do something else to alter the shape, the roughness of the ball on the one side. You have to get the one side wetter, heavier than the other side," de Villiers told RSN Radio. 
"Australian teams getting reverse swing before the 30th over ... they had to do something. If you use cricket ball and scratch it against a normal iron or steel gate or anything, anything steel on it, it reverse swings immediately. That's the kind of extra alteration you need to do."
"I said earlier on, that if they could get reverse swing in the 26th, 27th, 28th over then they're doing something different from what everyone else does," the 53-year-old added.
De Villiers, who played 18 Tests and 83 ODIs for South Africa, revealed that he tipped off the camera crew at Newlands to keep an eye out once Australia begun to get some unusual reverse swing. 
"We actually said to our cameramen ... go out (and) have a look boys. They're using something. They searched for an hour and a half until they saw something and then they started following (Cameron) Bancroft and they actually caught him out at the end.
Australia skipper Smith has come under fire after admitting to ball-tampering, revealing the leadership group planned it during the third Test against South Africa in Cape Town. It was Australian opener Cameron Bancroft, who landed in troubled waters on Saturday after he was caught on camera hiding a yellow sandpaper, which he used to tamper the ball on Day 3 of the third Test.
Cricket Australia took no extra time in announcing that the board would investigate the ball-tampering scandal. Observing all this, the Australian government asked the board to relieve Smith of his role as captain. Australian Prime Minister Malcolm Turnbull felt that the person who leads the men that wear the baggy green should be responsible for his actions, which is 'shocking'. (Read full story)