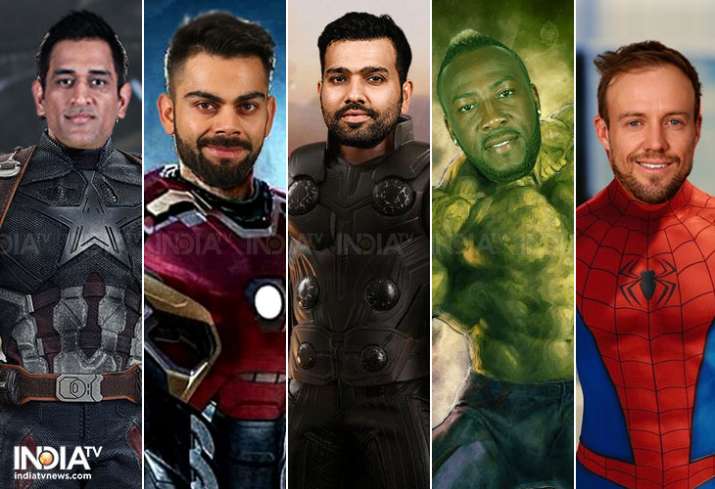 The hype regarding Avengers: Endgame is real and much like the Indian Premier League, it has taken the world by storm. From Captain America to Iron Man, the speculations regarding who kills Thanos has driven everyone crazy over the past one year and as the movies released today, the big-ticket movie has left everyone swooning around. So, we at IndiaTV decided to merge the two biggest universes in India -- movies and cricket and compared IPL 2019's biggest stars to the Marvel superheroes.
MS Dhoni - Captain America
MS Dhoni much like Captain America can be termed as the first 'Avenger' of the IPL world. He has been the glue that has kept Chennai Super Kings together since its inception. Dhoni is a born leader and a trusted warrior much like Cap. The calm, composed factor, is what makes these two stand out against the opposition and just like Steve Rogers, Dhoni never backs away from a fight. Dhoni so far hasn't scored as many runs as last season but played some very important innings to save his side. So, Cap isn't it?
Virat Kohli - Iron Man
Genius, passionate and dedicated. Iron Man and Virat Kohli is a no-brainer. Easily the second-most influential figure after Cap in the Avengers, Iron Man is perhaps the backbone of the heoric faction -- much like Kohli for RCB.Like Tony Stark, Kohli is a man on a mission as well and that is to win the IPL trophy. However, much like Iron Man's in Infinity War, Kohli's sole contribution of 400 runs from 11 games hasn't done the trick yet for RCB as they languish at No.7 in the points table. But, with three games to go, Kohli can still take his team past the playoffs line much like Stark is expected to do against Thanos in Endgame.
Thor - Rohit Sharma
The 'God of Thunder' and the 'HIT-man' are two vital forces who can be extremely difficult to stop once they get going. Mumbai Indians captain Rohit Sharma is no less than a wrecking ball as he rips through bowlers on a daily basis and slams thunderous sixes with ease. Rohit has scored 228 runs from 9 games and his impact this season however, hasn't been that great but with four games to go, he will have a major say in the playoffs race for Mumbai Indians. Much like Thor in Endgame.
Hulk - Andre Russell
Other than being a brilliant scientist, Dr Bruce Banner is known better for when he transforms into the mean, green rage machine called the Hulk and a cricketer similar to the uncontrollable green monster is explosive West Indian all-rounder -- Andre Russell. The bold, lionhearted Kolkata Knight Riders hitter and the Hulk have one factor in common - SMASH. All Dre Russ has done in this year's IPL is tonk the ball out of the park -- synnonymus with Hulk's power game. The West Indian has smashed 42 sixes in this year's IPL and scored 406 runs from 11 games at a strike-rate of 209.27 -- his best-ever return with the bat in IPL.
Hawkaye - David Warner
David Warner and Hawkaye. Strange? Well! I'll tell you why it is not. After missing Infinity War -- IPL 2018 for Warner -- both are back this year and with vengeance. Clint Barton is coming back charged and out for revenge under his new identity Ronin and much like him Warner's return to Sunrisers has been explosive. He has smacked the bowlers around and looked like a different beast altogether. The southpaw has scored 574 runs from 10 games including a century against RCB and leads the charts in the top run-scorer department. Much like Ronin to the Avengers, Warner remains an integral part of rhe core group of Sunrisers and will be interesting to see how he fares before leaving for the World Cup camp.
AB de Villiers - Spider-Man
Quick, hard-hitting and agile on the field, AB de Villiers is no less than Spider-Man in the cricket field. Just like the web-spinner shoots around, de Villiers does the same, with the only difference being that his shots are smashed all around the field. With both heroes donning red, de Villiers doesn't need a mask to do his job. The explosive batsman has smashed 414 runs in the 11 matches he has played this season and much like his good friend Tony Stark aka Kohli in this case, he is expected to play a major role ahead if RCB want to qualify for the playoffs. Also, the swashbuckler never fails to amaze the fans, just like the friendly neighbourhood Spider-Man.