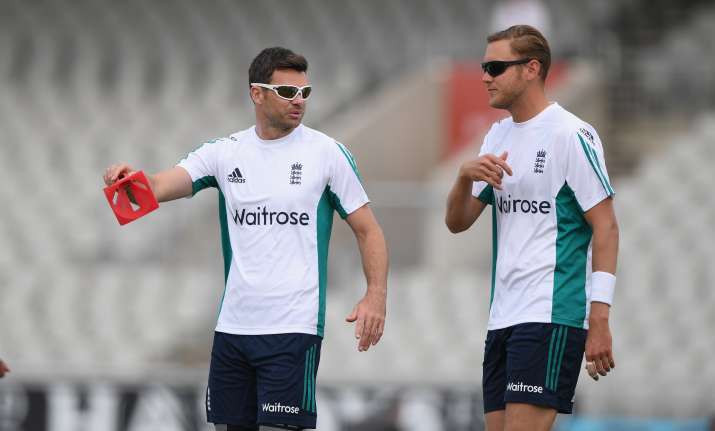 England pacer Stuart Broad has expressed confidence that his new-ball partner James Anderson would play a fundamental role in the upcoming Ashes series in Australia, beginning November 23 at the Gabba in Brisbane. Led by Joe Root, the Three Lions will take on the mighty Australians who haven't played cricket since the ICC Champions Trophy due to the pay-dispute.
Anderson, who recently turned 35, has notched up a total of 487 wickets in 126 Tests at an average of 27.90, but his 43 on Australian turf have come at a more expensive average of 38.44.
However, Broad believes Anderson, who was also a key member of the England touring side that lifted the 2010-11 Ashes trophy, would once again prove to be a central figure when the Joe Root-led side head into this summer's Ashes series.
"I'm very confident. The last couple of years he's averaging 14 or 15 with the ball in England, so we know how dangerous he is when the ball's moving around like that," said Broad according to media reports.
Speaking ahead of England's home three-match Test series against the West Indies, Broad insisted that Anderson's wobble seam bowling is a great weapon to have in Australia.
"But when we go to Australia, the wobble seam he bowls is a great weapon to have in Australia - take (Australia's) Stuart Clark as an example. We're certainly fortunate to have him going strong and I certainly expect him to play a big part in Australia," he added.
The pair has already established themselves as one of England's greatest new-ball pairings, having jointly taken 720 wickets in 94 Tests they played together so far. 
(With ANI Inputs).