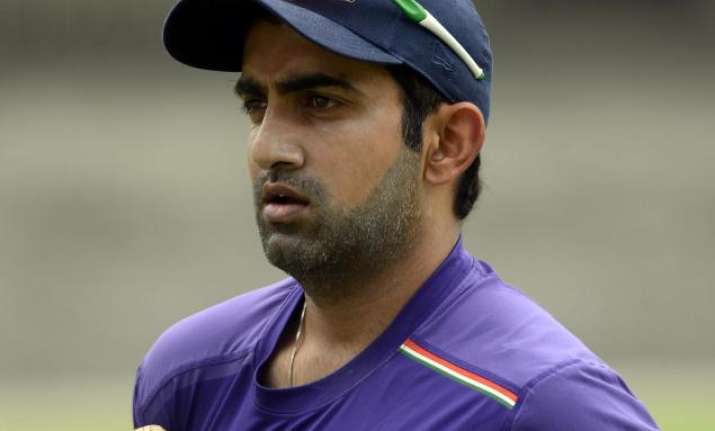 The year 2016 is a make or break for Gautam Gambhir. Expectations are running high as the left-handed batsman marks a return to the Indian Test squad after a gap of over two years to replace injured opener KL Rahul.
On his return, Gambhir impressed with his game and scored 29 in first innings of the 3rd Test against the New Zealand in Indore and 50 in the second.
While there are apprehensions over the consistency in his performance owing largely to his growing age and slowing reflexes, there is no doubt that Gambhir has proven his mettle through the years. 
So, for those who believe that maintaining a spot in the Indian squad will be a challenge Gambhir cannot surmount, a look at his career shows ups and downs are no stranger to him.    
1.  Gautam Gambhir, who turned 35 today, started his innings for India on April 11, 2003, in an ODI match against Bangladesh. His first few innings did not exactly go the way he planned. Cricket fans started questioning his capabilities and selection after he scored just about 113 runs in his first five games. However, with his determination, he proved his worth and earned himself a tag of 'most dependable opener'.
2.  Gambhir, popularly known as Gauti, had a shaky start to his career. The period from 2003-2006 almost went unnoticed from him. 
3.  By the start of 2007, Gauti became a key part in Indian team's success. It is the historic year when India won the T20 World Cup 2007. Gambhir played a critical hand from scoring 227 runs in the tournament to scoring a match-winning 75 in the final against Pakistan. 
4. Between 2008 and 2010, Gambhir emerged as a leading run-scorer and the highest centurion in ODI for India in 2008. Moreover, it is during this period he became the ICC Test player of the year in 2009 for scoring an aggregate of 100 runs in every Test he played that year.
5. Interestingly, Gambhir is the one who played a key role in the final of India's 2007 T20 World Cup and 2011 ICC World Cup wins. In the year 2011, when India won the World Cup after 28 years, Gambhir played a vital role in India's historical feat. He scored 393 runs in the tournament and a match-winning 97 in the final, but it was overshadowed.
6.  It was in 2013, after his on-field brawl with Virat Kohli, currently India's Test captain, that his career began witnessing a downfall. Before being dropped out from the squad, Gambhir last played for India against England in 2014.
7.  Gauti, however, continued his good run in the IPL, but that failed to materialise into his return into the Indian squad, until now. 
8.  Through his career, Gambhir has scored 4125 runs in Test matches, 5,238 runs in ODIs and 932 in T20s.