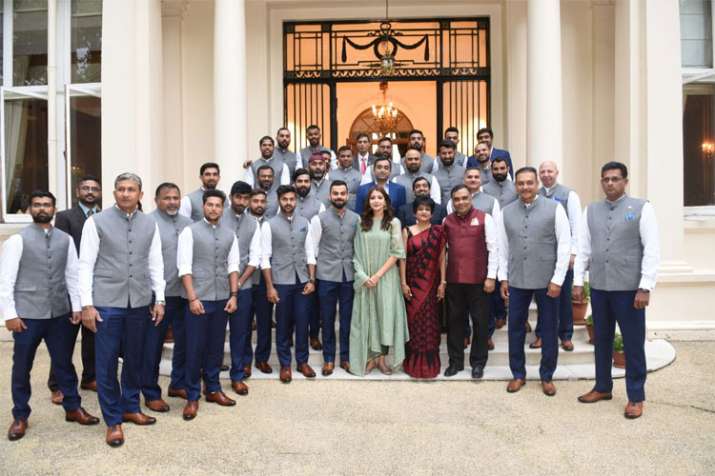 Indian skipper Virat Kohli and his wife and bollywood star Anushka Sharma are making the headlines again and this time BCCI is the reason for it. 
The Indian cricket team was invited to India's High Commission in London on Tuesday and the inclusion of Anushka in the team picture with the players and officials grabbed a lot of attention on social media. In the team photo, Anushka was standing in the front row alongside Kohli, while Indian vice-captain Ajinkya Rahane was left behind in the last row. 
BCCI posted a photo on twitter with caption, "#TeamIndia members at the High Commission of India in London."
The photo has raised many questions in people's minds as Anushka was the only one who was there in the picture. According to reports, BCCI had ordered the team players to stay away from their wives and girlfriends till the commencement of third Test match and this special treatment for captain Kohli is not going down well with the fans.
#TeamIndia members at the High Commission of India in London. pic.twitter.com/tUhaGkSQfe

— BCCI (@BCCI) August 7, 2018
Here are the some of the interesting reactions which the picture garnered on social media.
Vice captain is in last row and First Lady of Indian cricket is in front row. These people giving lecture online few days back. @AnushkaSharma

— Ali MG (@aliasgarmg) August 7, 2018
Is captain wife more important than vice captain? Where are other players wife's? Don't divide team for the sake of captain or Bollywood please

— Ssanjay Taannk (@SsanjayTaannk) August 8, 2018
@bcci has lost the little credibility it had after posting this picture!

— Ruchi Pradhan (@RuchiLee) August 7, 2018
The bollywood actress also grabbed the eyeballs when she was present at the stands during the first Test match of India-England series at Edgastaon. Kohli smashed a blistering century there and was a lone warrior for the Indian team in the match, which the visitors lost by 31 runs.
The Indian team will now look to make a comeback in the five-match series when they take on England in the second Test match at Lord's on Thursday.