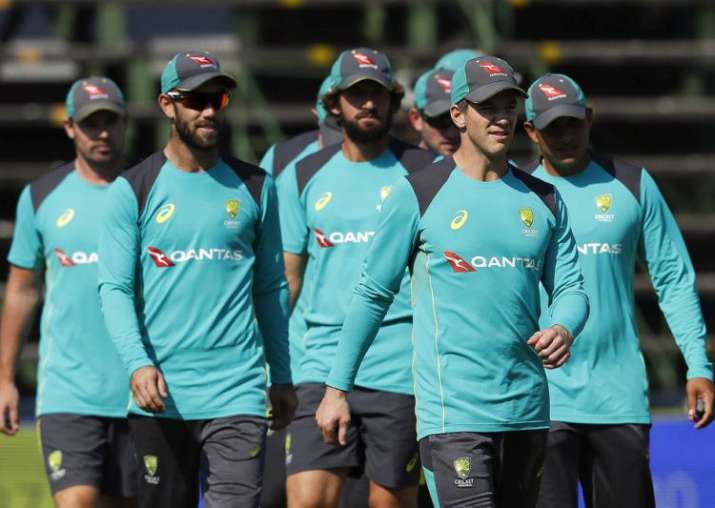 Somehow, the Australia team now has to play a game of cricket. Weighed down to breaking point by the ball-tampering scandal that has hung over them since last Saturday, Australia's players must find, from somewhere, the motivation to play a decisive Test against South Africa.
They won't find it from their preparations. There's barely been any.
Completely distracted by the fallout to the cheating scandal, Australia trained just once in the buildup to the fourth and final Test against South Africa, for a couple of hours on the eve of the game on Thursday.
Also, they're struggling badly for energy. The players — and everyone in the touring party — haven't got any proper sleep over the last few days because of the emotional stress of the saga, coach Darren Lehmann said.
"No sleep last night again," Lehmann said.
"No one's slept. That's the biggest challenge fronting up tomorrow. I haven't slept since Saturday, to be perfectly honest. A couple of hours here and there."
The week started with them all being interviewed by an integrity officer over any possible involvement they might have had in the plan to cheat in the Cape Town Test. They've now lost their captain and both of their opening batsmen to long-term bans, which were handed down on Wednesday.
Australia must fit at least three new players into the lineup, all top-order batsmen, after captain Steve Smith, vice-captain David Warner, and batsman Cameron Bancroft were all banned and sent home for their plan to cheat in the third Test, which South Africa ended up winning by a crushing 322 runs.
Matthew Renshaw, Joe Burns, and Glenn Maxwell were all urgently dispatched from Australia to South Africa to replace the three banned players. The newcomers may be unaffected by the ball-tampering saga, but they'll have to deal with jetlag having only arrived on Wednesday and Thursday.
And then on Thursday — as if the players needed any more — Lehmann brought them together to tell them he was quitting as coach after this final Test of the series.
"Speaking to the players and saying goodbye, and telling them the news, that's the toughest thing I've ever had to do," Lehmann said.
This week, Lehmann said he knew his team wasn't going to be "100 percent mentally right" for the Test.
So where are the Australian minds now after Lehmann's announcement, which feels like it might be the final straw to break Australian backs?
"It's going to be a big challenge, there's no doubt about that," Lehmann said at a news conference where he cried while announcing his resignation publicly. He pulled himself together to promise his team "will be doing everything they possibly can to play and make people proud of them."
That's the intention.
But the extent of the damage to team morale will become obvious over the next few days when the Australians go out onto the field in Johannesburg, and the South Africans turn up the pressure again, as they've said they will do.
Wicketkeeper Tim Paine will captain Australia with little joy in his personal promotion, having been appointed in what he called "horrible" circumstances.
While Australia play to save the series and repair their reputation, South Africa are playing for a piece of history that has bugged them for years.
South Africa have never won a home series over Australia since the end of apartheid and, leading this series 2-1 with the Australians in complete disarray, has promised to be ruthless in taking the chance.
"That's what competitors do. They want to go in and make sure they finish the job," South Africa captain Faf du Plessis said.
Du Plessis expressed sympathy for Smith, who broke down in tears while apologizing to Australians on his return home on Thursday. Du Plessis said he sent Smith a text message saying "he will get through this, he must just be strong."
"I do feel sorry for Steve," du Plessis said.
"I do have compassion toward what he's going through. He's one of the good guys and he's just been caught in a bad place and he's obviously taken responsibility for that."
The sympathy from South Africa won't extend to the Wanderers field from Friday, though.
"I'm expressing my feeling for a human being, and what he's going through, but it certainly doesn't take away from what we're going to try and achieve over the next five days."