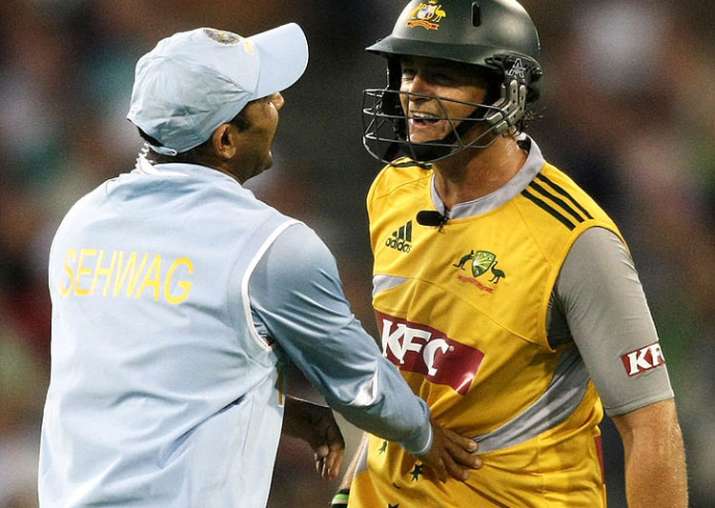 Two of the most destructive batsmen in the history of gentlemen's game - Virender Sehwag and Adam Gilchrist used to instill fear in the minds of even some of the best bowlers who had faced the duo in their prime. Both destroyed the bowling attacks around the world with their aggressive style of play and played with great dominance irrespective of the opposition they faced. 
Both Sehwag and Gilchrist entertained the crowd world over with their blade and created a niche for themselves in the limited-overs format where they're considered as the modern-day legends.
During the ongoing five-match ODI series between India and Australia, Gilchrist reminisced the good old days of the famous Indo-Aus rivalry and expressed his fondness for the former India opener on social networking site. India have already taken a 3-0 unassailable lead over Australia and have sealed the series in their favour. 
Post-retirement, Sehwag who is famous for his witty one-liners and tongue-in-cheek humour, has taken the help of Twitter to maintain his charm among his millions of fans. However, this time it was the former Australian wicketkeeper-batsman Gilchrist who chose to go the Sehwag way and posted about an incident during an India vs Australia series and captioned his message, "Let's face it... @virendersehwag could create an odd headache for an opposition attack".
Gilchrist was asked during one such series if the Aussies had any plan to stop Sehwag, to which his answer was "Yes, we have planned to lock him in the hotel room".
Let's face it... @virendersehwag could create the odd headache for an opposition attack!! pic.twitter.com/RmvDZLljBP

— Adam Gilchrist (@gilly381) September 24, 2017
To this hilarious response, cricket fans around the world, especially in India, hailed the Australian legend and showered their affection widely on him.
Well so did you 😁 imagine you both opening together ... now that would be a real headache for any team.

— Nishant Chauhan (@nishant_ch) September 25, 2017
It works the other way round too! Either of you are destructive !

— kavitha (@kavi_91) September 24, 2017
Ya our dangerous operner shewag
Now playing cricket in twitter like a boss

— PSPK Trends👍🦁 (@Santoshyadavpsp) September 24, 2017
Haha gilly u hv been genious to cricketing world and one of the complete gentleman tht cricket has seen ever.☺☺☺

— Manoj singh (@mnj0077_cool) September 25, 2017
Gily and Sehwag worlds most aggressive batsman I have seen so far.

— Ravish Tiwari (@tiwariravish) September 25, 2017
Those were the best days of my life.
Watching both of yours' batting on the crease was like feast for us.
Coolest Australian Player Ever :)

— Rahul Khanolkar (@khanolkarrahul) September 25, 2017
And both of you would make bowlers cry even in Tests. Thanks for the memories!!

— Swapnil Prabhu🇮🇳 (@sprabhu86) September 25, 2017
Sehwag represented India in 104 Tests and 251 ODIs, scoring 8586 and 8273 runs, respectively. Whereas, Gilchrist played 96 Tests and 287 ODIs for Australia, amassing 5570 and 9619 runs, respectively.