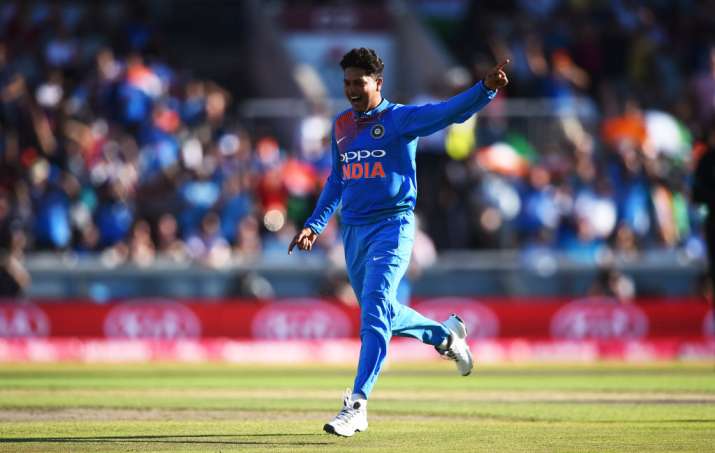 The 1st T20I of the three-match series belonged to a 23-year old. Not only did India win by 8 wickets against England at Manchester, but have also got them scratching their heads in sheer amazement on how to counter a chinaman. (ENG vs IND FULL COVERAGE)
Kuldeep Yadav picked up a five-wicket haul against the Three Lions, playing a crucial role in India's win by dismissing Jos Buttler (69), Alex Hales (8), skipper Eoin Morgan (7), Jonny Bairstow (0) and Joe Root (0). 
The Chinaman left the Englishmen befuddled, dazed and perplexed with his spells and has been a constant threat ever since his arrival on the scene. 
A dumbfounded England team have now turned their focus to counter Kuldeep by using a spin-bowling machine, known as Merlyn, which will help mimic the chinaman's unique variations and skills. 
India play three T20Is and ODIs before a gruelling five-match Test series against England and the hosts will have to pull up their socks and work on their homework if they do not want any more surprises in the two-month long tour. (Also Read: Take every game as my last - KL Rahul)
"Kuldeep took three wickets in four balls and deceived us. It wasn't a case of us chipping the ball up in the air. He completely deceived us and I thought he bowled well," acknowledged Morgan.
The Men in Blue restricted England to 159/8 with the help of Kuldeep's 5/24 and it was KL Rahul's unbeaten 101 which wrapped up the match with ease for India to take a 1-0 lead in the three-match series. (1st T20I ENG vs IND MATCH SCORECARD)
"We didn't get enough runs and were probably 30-40 runs short. I thought we got off to a brilliant start. Kuldeep bowled well but we know we can play him better than that. So between now and the next game, we need to assess our plans, make sure they are the right ones, and stick with them, he added.
After the 1st T20I, wicket-keeper Jos Buttler suggested that they would use the Merlyn bowling machine. 
"One thing we can do is with Merlyn, to replicate the angle. It's a very good machine to get used to that. But it was the first time some guys have faced Kuldeep and it may take one or two games, plus video.
"It's about understanding that you shouldn't get too flustered. With spin it can all happen quickly, suddenly you have faced a few balls and aren't off the mark, so it's not allowing that to affect you," said Buttler.
Merlyn, is no stranger to the Englishmen as the spin-bowling machine was introduced back in 2005 Ashes series and was touted as being able to 'bowl any ball known to man'. At the time, the Englishmen faced a similar problem when legendary spinner Shane Warne was racking up wickets. 
The machine helped the Three Lions understand Warne's spells which eventually helped them win the series 2-1. 
Coming to the dilemma the Englishmen are facing, the Merlyn is a way to counter Kuldeep, not a solution entirely as India will look to cash on the Chinaman and spin partner Yuzvendra Chahal in the remainder of the limited-overs series. 
India will play England in the second T20I of the three-match series at Cardiff.