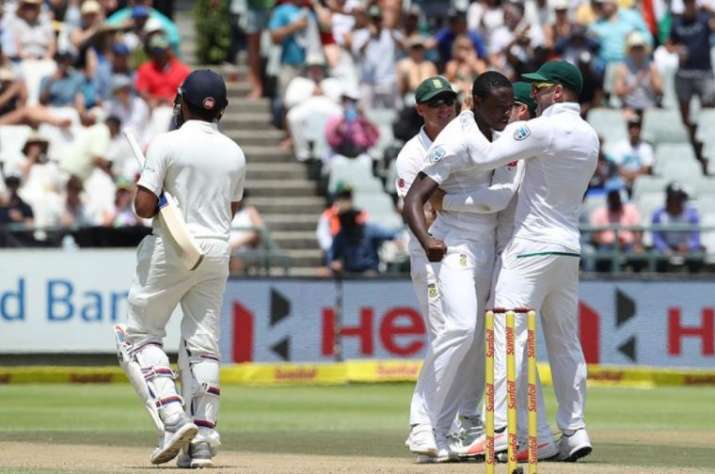 South Africa may have felt that they had the job done after the Indian batting line-up collapsed, but Hardik Pandya's knock has revived the visitor's enthusiasm of getting back in the game. South African pacer Kagiso Rabada is confident that the hosts are slightly ahead in the first Test of the three-match series as they enjoy an overall lead of 142 runs with eight wickets in hand. As they go into the third day of the first Test, the Proteas swashbucklers will aim to add a massive lead to keep the Men in Blue out of the game.
"We are slightly ahead and we are not going to give in. We need more hard work but we will take it at the end of the day. After the sort of momentum India got in the second session, we would take that lead," said Rabada at the end of the day's play. 
Rabada feels that India would come in with all guns blazing as the Virat Kohli led Team India will come back stronger and give their all on the third day.
"Obviously, we were hoping for a bigger lead but India are not going to roll over and we expected that. That is what they showed out there," Rabada added. 
"It is tough to say what fourth innings' score we are looking for right now. We are looking at batting time, looking to bat normally and see what happens from there. We want to make it hard for them to score," he added. 
Steyn has been ruled of the remainder of the series with a bruised heel. This was his comeback Test but he lasted only 18.3 overs before an awkward landing on a foothole impeded his return. 
"It's never nice for Dale Steyn because he's just come back from injury, so just feeling very sympathetic for him. It's not a nice thing, but we have to find a way to win this Test match. Luckily this time, we went with four-seamers. So there's three seamers now that have to do the work," said Rabada. 
Hardik Pandya scored 93 and took two wickets to bring India back into the game. The South African spearhead feels that the hosts need to find a way to counter the all-rounder as he looked quite comfortable playing his natural game on-field. It was 25-year old Pandya who stood tall when the Indian batting line-up collapsed. Pujara, Kohli, Vijay, Dhawan and Rohit were easy targets for the South African pacers on a turning wicket with the new ball, but it was surprisingly Pandya who talked with the bat in the first innings.
"Looking at a player like him, he likes to play his natural game by playing shots. Sometimes that can put you on the backfoot or sometimes that can pay off for the bowling side. So it's a bit of a gamble, but if he chooses to play that way and it works for him then great. We need to find a way to counter him," the fast bowler said. 
"It's a wicket where you really have to graft. You can't just come in and play shots everywhere. It's almost like there's a ball that will have your name on it. I think you need a little bit of luck. 
"As you have seen Hardik Pandya got dropped, but he did play well. So I think it's a wicket where you need a little bit of luck. You need to really grind," he added.
(With PTI Inputs)