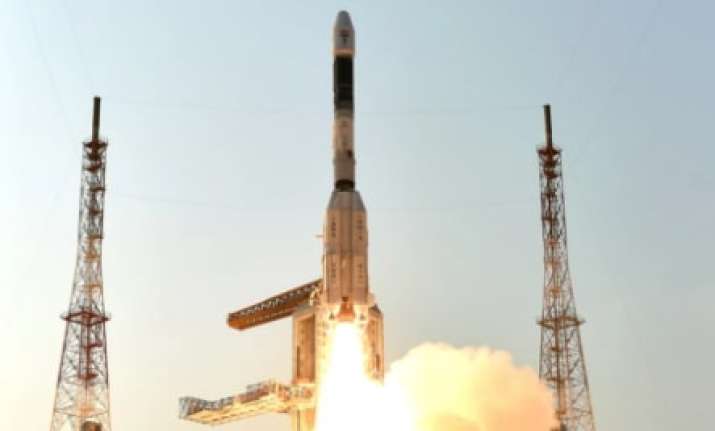 The Indian Space Research Organisation (ISRO) released a video captured by cameras onboard the launch vehicle of the powerful GSLV-F08 Liftoff on Thursday night. 
The space agency's website posted an edited version of the visuals of the launch and those from the onboard cameras. 
The 1.41 minutes long video shows the clips from pre-launch to the countdown and then the final power-packed launch. The video comprises of the three stage separation, payload firing and ejection of the satellite.
India on Thursday had successfully put into orbit the latest communication satellite GSAT-6A after a perfect launch of its powerful geosynchronous rocket that will help in mobile communication even from very remote locations through hand-held ground terminals. 
Scripting yet another success for the ISRO, the 49.1 metre Geosynchronous Satellite Launch Vehicle (GSLV-F08), fitted with indigenously developed cryogenic engine at the third stage, lifted off from the Satish Dhawan Space Centre here at 4.56 pm and soared majestically into the clear sky at the end of the 27-hour countdown, 
The satellite, with a mission life of about ten years, would provide a thrust to mobile communication through multi-beam coverage facility, the Indian Space Research Organisation(ISRO) said. 
It is expected to be a shot in the arm for the armed forces. In a text-book launch, about 18 minutes later, the rocket injected the GSAT-6A into the geostationary transfer orbit as ISRO scientists broke into celebrations at the mission control centre.
Prime Minister Narendra Modi also congratulated ISRO on its successful space mission.