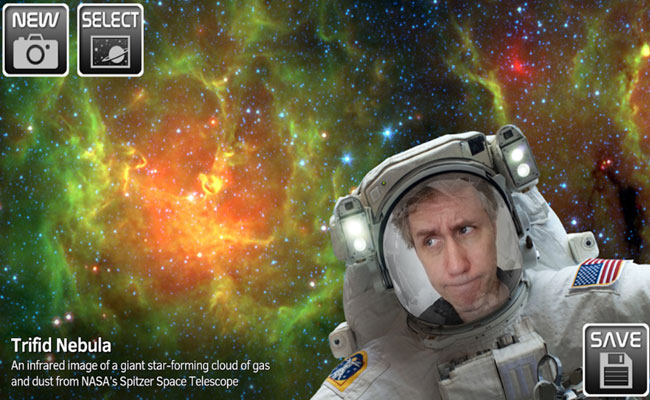 A new app has been launched by the US space agency NASA that allows people to take selfies in a virtual spacesuit.
With "NASA Selfies" app, selfie lovers can pose in front of gorgeous cosmic locations like the centre of the Milky Way galaxy or Orion Nebula.
Selfies app allows users to just snap a photo of themselves and pick a background. 
NASA also launched an exoplanet excursions virtual reality (VR) app. It takes VR users on a guided tour of the TRAPPIST-1 planetary system.
Catch all the latest news about Lok Sabha elections 2019 HERE
To celebrate the 15th anniversary of the launch of the Spitzer space telescope, these digital products are created. 
The app is available on both iOS and Android. It also tells users information about the science behind the images. All the images are taken by Spitzer.
TRAPPIST-1 is the only known exoplanet system to host seven roughly Earth-size planets. 
In detecting these planets, Spitzer played a major role. It has also provided information that has helped scientists learn about the planets' likely compositions. 
On the Spitzer YouTube page, a 360-degree video is also available. It allows viewers to explore the virtual TRAPPIST-1 system on their desktop, smartphone or with a smartphone-based 360-viewer like Google Cardboard, NASA said.
On August 25, 2003, the Spitzer space telescope was launched to study the early universe in infrared light.
(With IANS inputs)