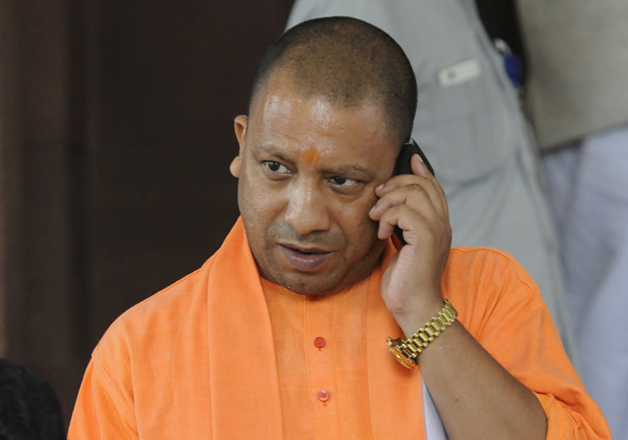 Firebrand BJP leader Yogi Adityanath, who represents Gorakhpur constituency in the Lok Sabha, was on Saturday elected as Legislative Party leader by the newly elected BJP MLAs.
Adityanath will be sworn in today at a ceremony at Kanshiram Smriti Upvan here at 2.15 PM where Prime Minister Narendra Modi and BJP chief Amit Shah will be present. 
He will be the 21st chief minister of Uttar Pradesh and the fourth from the BJP. 
So who is Yogi Adityanath?
Let's have a look at 10 interesting facts relating to Yogi Adityanath: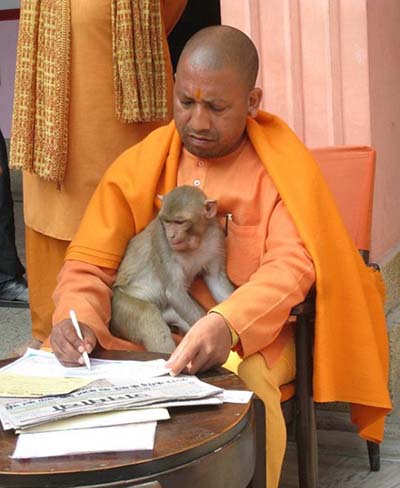 1. Yogi Adityanath was elected as the Member of the 12th Lok Sabha in 1998 from Gorakhpur constituency. He was the youngest legislator of the Lok Sabha. So far he has been MP from the same constituency five times.
Also Read: Dinesh Sharma: What we know about UP's deputy CM-designate
In 2014 Lok Sabha Elections, Adityanath won the elections by a margin of 1, 42,309 votes. He is quite a popular politician of his constituency. He didn't require PM Narendra Modi wave to cling on too his seat.
Adityanath is often caught in controversy from his speeches but they are what keep the leader going. Adityanath is the successor to former Hindu Maha Sabha president Mahant Avaidyanath.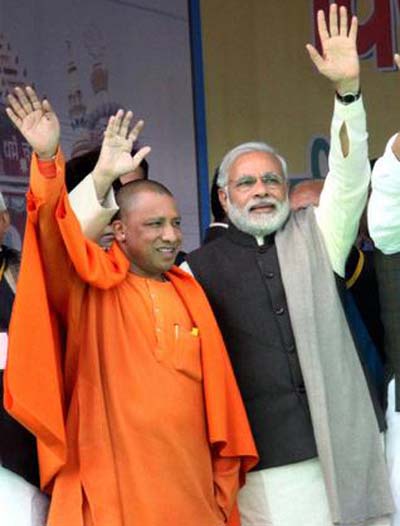 2. Adityanath's predecessor Mahant Avaidyanath was the president of Hindu Maha Sabha. Both of them kept Hindutva agenda at the forefront of their election campaign. His mission in life is to convert other religious groups back to Hinduism.
Read Also: What transpired at BJP MLAs' meeting where Yogi Adityanath was elected CM: Blow by blow account
In 2005, more than 5,000 people were converted in the town of Etah in UP. He reportedly said: "I will not stop till I turn UP and India into a Hindu rashtra". Adityanath has often been caught in controversies because of his hardliner stand on Hindutva. 
Every time his margin of victory kept on increasing dramatically due to his popularity and influence among his electorate.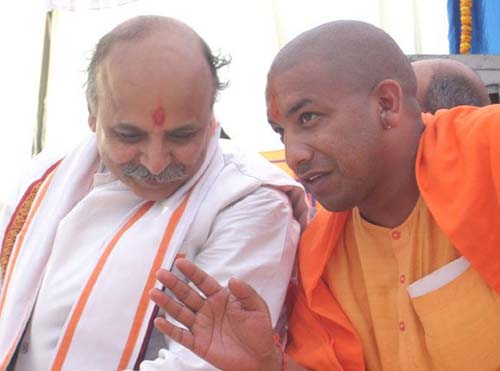 3. Adityanath's original name was Ajay Singh. He changed his name after becoming a 'sanyasi'. He has got a B.Sc. degree from HNB Garhwal University, Srinagar, Uttarakhand. He is a very good orator and has the ability to attract eyeballs with his fiery speech. He has been quite vocal in the Parliament and has been raising issues with alacrity. It's not that he raises issues related to Hindutva only.
In fact, he has been equally concerned about issues that have the potential of impacting the lives of the poorer strata of the society. When he speaks in the Parliament, his opponents try to interrupt him all the time but Yogi Adityanath goes on to make his point without being bothered about the opposition.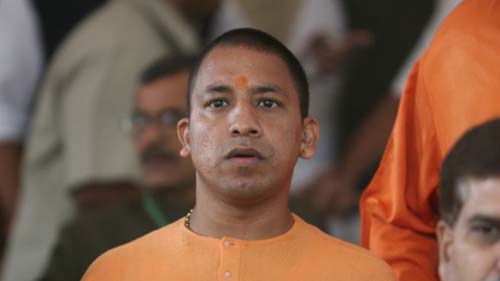 4. In Gorakhpur riots of 2007, a Hindu boy was killed after some people opened fire on a Muslim procession that took place on the occasion of Moharam. When the youth succumbed to the injuries, Adityanath vowed to deliver justice to Hindus.
He announced a torchlight procession and a "Shraddhanjali Sabha (pay homage)" on a busy road. The District Magistrate had forbidden him to do so, but regardless of his instructions he and his followers set off. For the first time in his life, Adityanath was jailed under Section 151A of the CRPC only to find later that he has also been booked under Sections 146, 147, 279, 506 of the Indian Penal Code.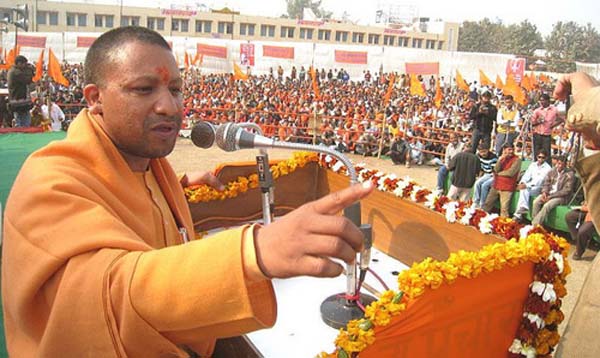 5. Adityanath of the BJP has several criminal cases pending against him. Some of the cases where cognizance has been taken are: 3 charges related to rioting (IPC Section-147); 1 charge related to Attempt to murder (IPC Section-307); 2 charges related to Rioting, armed with deadly weapon (IPC Section-148); 1 charges related to Act endangering life or personal safety of others (IPC Section-336); 1 charges related to Every member of unlawful assembly guilty of offence committed in prosecution of common object (IPC Section-149); 2 charges related to Trespassing on burial places, etc. (IPC Section-297); 1 charges related to criminal intimidation (IPC Section-506).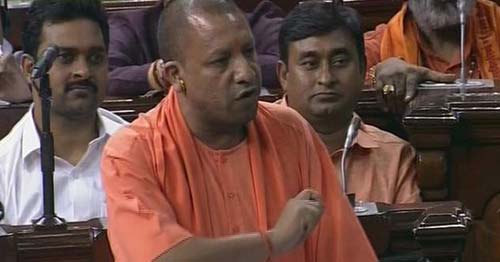 6. Adityanath is the founder of the Hindu Yuva Vahini. It is a social, cultural and nationalist group of young people. This group is very famous amongst Hindus of east Uttar Pradesh. Hindu Yuva Vahini has many dalit Hindus.
After Adityanath's arrest in 2007 for inciting Gorakhpur riots, his HYV launched retaliations. Two coaches of the Mumbai bound Mumbai-Gorakhpur Godan Express was set ablaze on 30th January, 2007.
Aggression is the hallmark of Adityanath. His opponents often charge Adityanath and his Hindu Yuva Vahini of taking law into their hands. The Gorakhpur MP, however, gives diplomatic answer on this question.
He says that if the law enforcement agencies fail to do justice to their roles then common man has to think of the alternative ways of getting justice.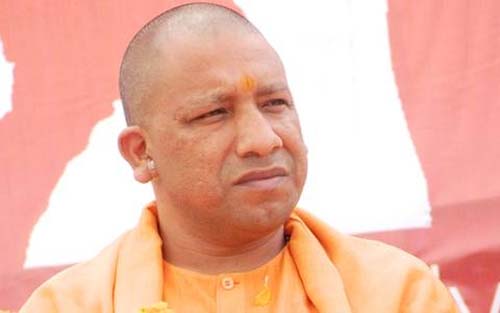 7. In March 2010, Adityanath was one of several BJP MPs who did not adhere to the party whip on the Women's Reservation Bill.
Few years ago, a video surfaced in which Adityanath was seen as saying that if one Hindu girl is converted to Islam then they will convert 100 Muslim women to Hinduism. When Rajat Sharma asked this question to Yogi Adityanath in his show 'Aap Ki Adalat', an unapologetic Yogi Adityanath said that nobody has the right to practice forcible conversion.
The Gorakhpur MP said that a person has to be answered in the same language that he understands.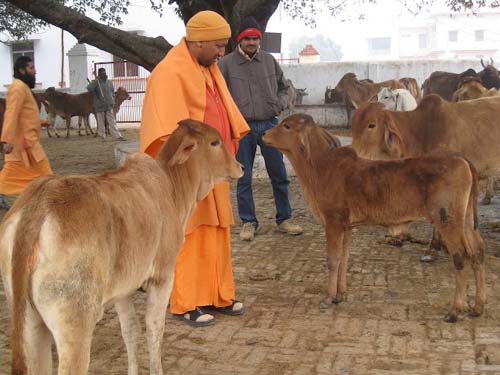 8.  Despite his prominence in the party, he has never been on good terms with the BJP. He has had a strained relation with the party for more than a decade. In 2007 UP Elections, BJP and Adityanath were at conflict.
He wanted more than 10 seats in Gorakhpur region to go to candidates selected by him, but the party leadership would not agree. Subsequently a compromise agreement was reached by the RSS. He fielded 8 candidates of his choice. RSS's intervention normalized Yogi Adityanath's relationship with BJP during the election season.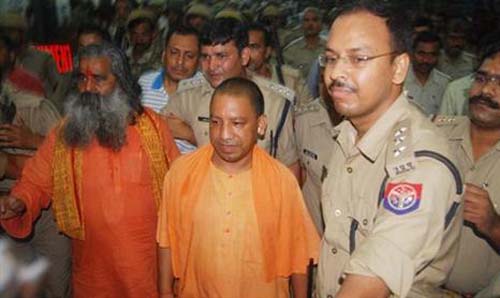 9. Adityanath, during India TV's Chunav Manch conclave in February, said that he will make 'love jihad' an issue in the polls. Gorakhpur MP has been raising this issue for the past four to five years. He said, ""I have been raising this issue for the past four to five years. The menace first began in Kerala and has now spread to Western UP". 
Yogi Adityanath says he is not against Hindu-Muslim marriages provided it's based on mutual trust and there is no element of deceit in that relationship.
He says that his fight is against people like Ranjit Kohli who camouflaged his real identity to marry Tara Shahdeo, the national shooter.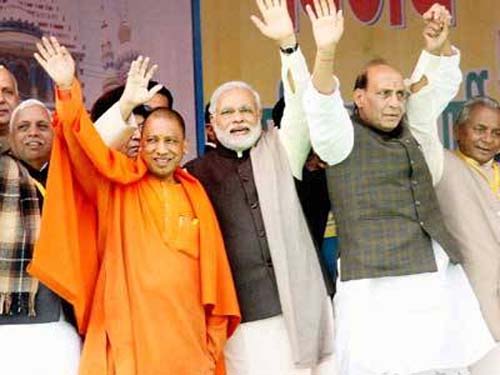 10.  The BJP had included him in the party's list of star campaigners for polls. Adityanath raised the law and order situation extensively and made 'love jihad' a major poll issue. The BJP's mega success in the polls have certainly cemented Adtyanath's hold in his party.