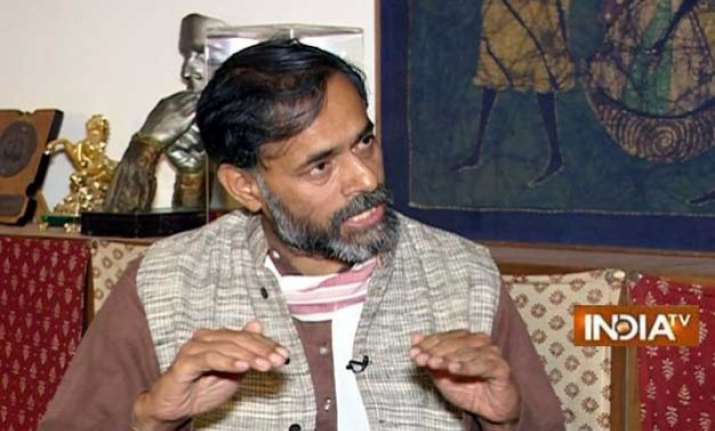 New Delhi:  'Swaraj Abhiyan' leader Yogendra Yadav is in no hurry to launch a new political party.
In an exclusive conversation with indiatvnews.com, Yogendra Yadav refused to set any deadline for launching the new political party and said that they want to ensure that the new party, as and when it is formed, does not repeat the mistakes of Aam Aadmi Party.
"The time-frame for launching the political party is as soon as possible- the sooner, the better.  But what we do not want to do is to repeat the mistakes of Aam Aadmi Party, namely start getting into all this without adequate preparations, without adequate safeguards and without a 'maryada'. The country needs a new alternative which is truly democratic and transparent," Yogendra Yadav said.
While conceding that 'Swaraj Abhiyan' lacks a charismatic face like that of Arvind Kejriwal, Yogendra Yadav expressed the hope that some outstanding face may emerge in future.  
"At least I am not a charismatic face and that is something I have absolutely no hesitation in accepting. The question is- does that mean that we, as an organisation, are doomed to failure? I do not know. Who knew Arvind Kejriwal five years ago? But something happened and these people became important. So why do you rule out new people coming up, people other than me. I'm sure; this country of 125 crores has outstanding people somewhere and one of them might come," Yadav said," Yogendra Yadav said.
Read Full Interview: Yes, I misread Arvind Kejriwal and 1-year of his govt is a 'complete betrayal', says Yogendra Yadav (Exclusive)
Yadav further informed that the proposed convention of  'Swaraj Abhiyan' to be held in New Delhi on October 27 is aimed at reviving  anti-corruption struggle.
"We are holding a convention of anti-corruption activists from all over the country. Anna Ji is expected, Santosh Hegde is coming and all those anti-corruption activists who are still wedded to that idea, they are coming together, led by Prashant Ji. And they are reviving the anti-corruption struggle," Yadav said.