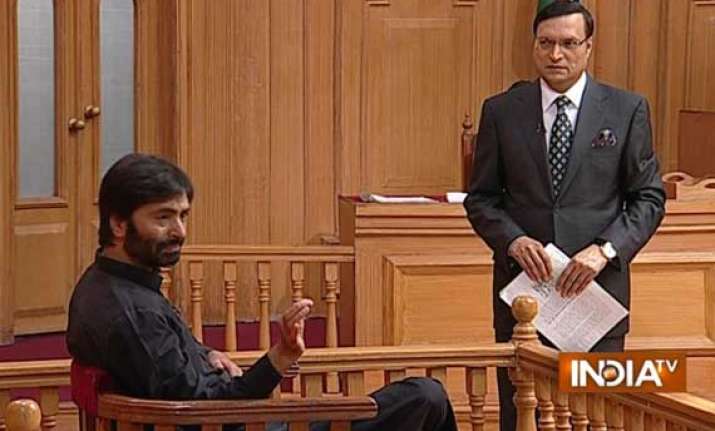 New Delhi: Jammu and Kashmir Liberation Front chief Yasin Malik has clearly hinted at intensifying the ongoing separatist movement in the Valley, saying that Prime Minister Narendra Modi's government was now adopting a "hardline" approach on the Kashmir issue.
Replying to queries in
Rajat Sharma
's show Aap Ki Adalat to be telecast on India TV tonight, Malik said, "Modi's message is very clear. He is not going to give us (Kashmiri separatists) any diplomatic or political space. He wants to create such an atmosphere.
"The people of India have elected Modiji as Prime Minister. Now that he has decided to take a hardline approach, we in Kashmir are ready (to face that), and we will strengthen our movement", said the JKLF leader.
"It is a testing time for us, now that Modi has come. For us, hard days are (sic) come. God willing, we will pass this test."
Yasin Malik, alongwith Hurriyat Conference leaders Syed Ali Shah Geelani, Shabir Shah and Mir Waiz Moulvi Umar Farooq had met the Pakistani High Commissioner in Delhi this week, triggering a diplomatic controversy, following which India called off the Foreign Secretary level talks with Pakistan scheduled in Islamabad on August 25.
Malik pointed out that it was former Prime Minister Atal Bihari Vajpayee who, after the Ramzan ceasefire in November, 2000, had allowed Kashmiri separatist leaders to go to Pakistan to meet their leaders, so that an atmosphere for peaceful dialogue could be created.
"Kashmiri (separatist) leaders meeting Pakistani officials has a 24-year-old precedent. Whenever their PM or Foreign Secretary used to visit India, we used to meet them. It is wrong to say that we have spoiled the (India-Pak) peace process. On the contrary, we were trying to strengthen the peace process so that all the stakeholders could express their views", said Malik.
"Kashmiris are major stakeholders in the dispute, but the Ministry of External Affairs has now come up with the contention that India and Pakistan are the only stakeholders on Kashmir issue.
"Our message to Modi is: you may give good governance, but you cannot finish off a movement by adopting a hardline approach", the JKLF chief said.
"We are not a third party. It's my belief that Kashmir issue is not a border dispute between India and Pakistan, where both the countries sit and decide about the fate of Kashmir. This is not acceptable to Kashmiris. It is our legitimate, democratic right to decide our own fate. Kashmiris will have to be included in any talks relating to their fate", said Malik.
Asked how could the Hurriyat leaders claim to be the sole representatives of Kashmiris, Yasin Malik replied that "Omar Abdullah, the chief minister, and Mehbooba Mufti had no dispute with the Centre. It is we in the Hurriyat who consider Kashmir as a disputed issue. In Nagaland, the Centre spoke with the leaders of NSCN, Isaac Swu and T. Muivah, and not with the Nagaland chief minister".
In another significant disclosure, Yasin Malik revealed how in 2006, the then PM Dr Manmohan Singh requested him to contact militants passed in Pakistan to spur on the peace process.
Malik disclosed: "After Vajpayee government left, I had an official meeting with the then PM Dr Manmohan Singh in 2006 in which I told him that the government should involve militant leadership in peace talks. The PM said, he needed our help in this regard. I went to the US, and when the earthquake shook Pak Occupied Kashmir, I went there with relief goods. It was then that I visited the Lashkar-e-Toiba camp in Muridke where Hafiz Saeed had organised a felicitation event. I addressed the Lashkar cadres there."
Malik said, in February, 2013, he was in Pakistan when his wife gave birth to a daughter, and after he got news that Parliament attack convict Afzal Guru had been hanged, he sat on a 48-hour hunger strike in Islamabad. It was there that Hafiz Saeed came to meet him, he added.
Asked about JKLF's policy on Kashmir, Yasin Malik said: "India considers Kashmir as its integral part, its crown, while Pakistan considers it as its jugular vein. Our party's view is that it is for the Kashmiris to decide their fate democratically. Our political belief is that we want azadi."
When Rajat Sharma asked why the separatist leaders were averse to contesting polls in Kashmir, Malik replied that it was way back in 1962 that the late Jayaprakash Narayan had said that polls in Kashmir were rigged.
Malik however offered a challenge to both Omar Abdullah and Mehbooba Mufti: to choose any particular constituency and contest in a "private poll" conducted by India TV.
Yasin Malik in Rajat Sharma's
Aap Ki Adalat
will be telecast on India TV on Saturday (August 23) at 10 pm. The repeat telecasts will be on Sunday (August 24) at 10 am and 10 pm.