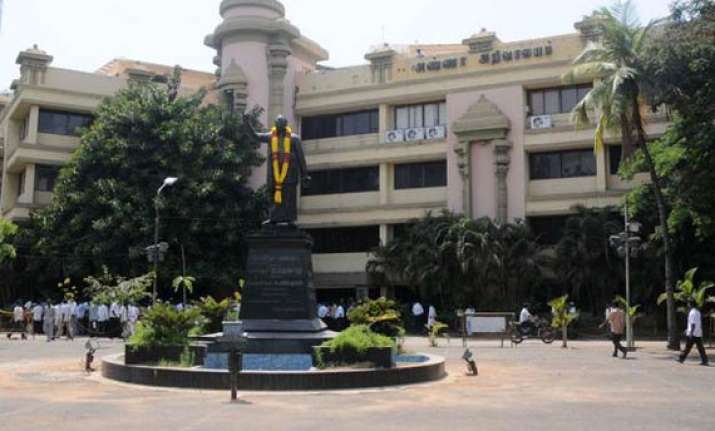 Chennai, Oct 15: DMK workers would thwart any move by the AIADMK government to "usurp" the party headquarters Anna Arivalayam, alleged to have been built on grabbed land, DMK chief M Karunanidhi said on Friday night. 

"It is not just a building of bricks and stone. It is constructed on the toil and blood of thousands of DMK men. You can enter it only walking over them", Karunanidhi told an election rally in support of the party's Chennai mayoral candidate M Subramaniam.

"The day you lay your hand on the Arivalayam will be the last day of your government", Karunanidhi told Chief Minister Jayalalithaa who had challenged him whether he was prepared to surrender it to the government if Arivalayam was constructed on a plot exceeding 25 grounds.  Jayalalithaa has alleged the DMK headquarters was constructed on land grabbed from a zamindar family in 1972. 
The AIADMK supremo has also said her mentor and AIADMK founder M G Ramachandran was expelled from DMK by its chief M Karunanidhi only because he had opposed it.  "Although MGR was the DMK treasurer then, he had questioned the strong-arm methods of Karunanidhi in the purchase of the land from a zamindar family," Jayalalithaa had said yesterday at an election rally at Tirunelveli.

Karunanidhi earlier today ridiculed Jayalalithaa for challenging him over the area of DMK headquarters land, saying she had misunderstood his explanation over the issue.  Denying her contention that he had said the DMK office was built on 25 grounds (one ground equals to 2,400 square feet), Karunanidhi in a statement said he had only stated that one cawny of land was equivalent to 25 grounds.  Labelling the land grab charges against DMK men as "false", Karunanidhi asked the government to come out with statistics on how much land was retrived and handed over to the poor. He alleged DMK men were arrested on "false and fabricated charges" only to prevent them from getting involved in the civic poll work.

Karunanidhi charged law and order in the state had "completely deteriorated" with "murders, robberies and chain-snatching becoming the order of the day". In the past five months, 300 such crimes were reported in the state, he said. PTI