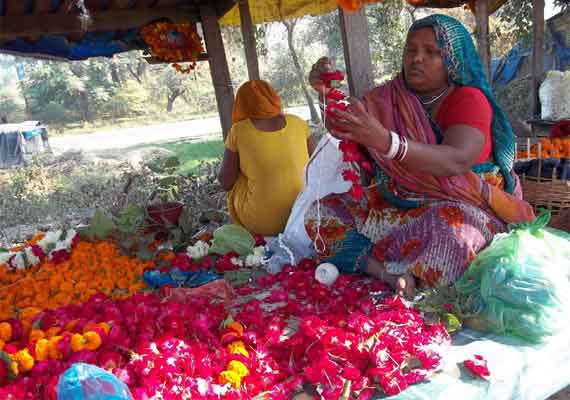 Agra: The start of the marriage season, the perennial demand for use in religious purposes, coupled with a high-voltage election campaign has created a shortage of flowers in Agra, and the ones available have seen their rates zoom sky-high.
"Right now there is pressure for flowers from all sides," says Ram Nath, a flower seller at Raoli Shiva temple. Apart from the various temples where there is an every day demand, the Sai Baba temples and the dargahs too need flowers on Thursdays. Also there is increased demand for flowers from the hotels at this time of the year.
"Each day, thousands of garlands are being sold in all parts of the city for the politicians. Rose petals are also in great demand. Garlands which used to cost just Rs.5 now sell for a minimum of Rs.20. 'Gainda' (marigold) is the cheapest," Mishri Lal, a garland seller in Belanganj area in the city, told IANS.
Flowers usually come from Fatehabad road and are sold at a dozen places in Agra, generally close to the temples at Rawat Para, Tota ka Taal, Phulatti, Kamlanagar, Balkeshwar, and Belanganj.
For politicians, as well as their supporters, flowers are necessary.