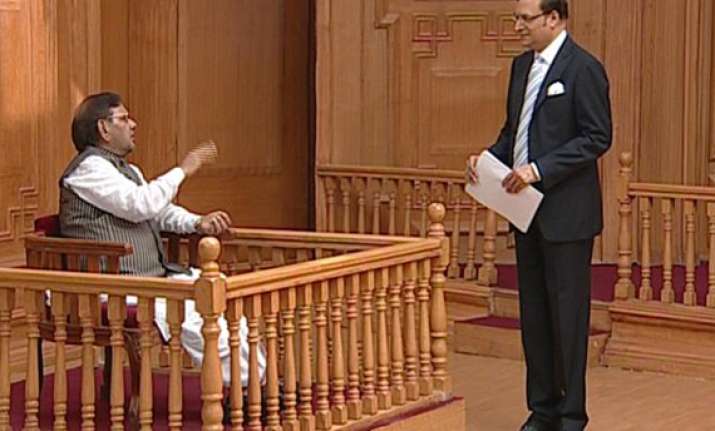 New Delhi, Sep 22:  NDA convenor Sharad Yadav has clearly said the opposition was not in favour of toppling the UPA government at the Centre, nor would it press for the convening of a special session of parliament to force a trial of strength.
Replying to queries in Rajat Sharma's Aap Ki Adalat, Sharad Yadav said: "We don't want to topple this government.
"Let the Prime Minister and his ministers sleep in peace. We will carry on with our work to awaken the people about the threat from FDI in retail.
"I have told Advaniji we don't need a special session. We will go to the people. Let the Parliament be convened as per schedule."
Yadav said, it would have been better had Sonia Gandhi been elected prime minister.
"Some of our colleagues opposed Soniaji as prime minister (in 2004). But she was, after all, leading India's largest party at that time.  We have faced Jawaharlalji, Indiraji and Rajivji, so what was the problem in facing Soniaji?
"Right now, we are fighting with a shadow. Had it been Sonia Gandhi, she could at least have been accountable as prime minister. This person (Manmohan) fought only one election and lost. He has no prospects of even contesting a civic poll."
Asked about whether he was trying to join hands with Mulayam Singh, Chandrababu Naidu, the Left Front leaders and others, Yadav said: "I have social relations with all these leaders. They do come to me for advice, and I give them frank advice about their parties."
On FDI in multi-brand retail, Yadav said, this decision would affect the livelihood of 25 crore people in India. "Our trade and industry is 2,500 years old and has evolved over centuries. How can it be replaced?"
On the prime minister's promise that FDI in retail would create jobs for nearly one crore youths, Yadav said: "The jobs will go to only the public school boys and girls. Youths who speak Hindi, Bengali and other regional languages will be left behind. For the last 64 years, this party (Congress)  has been speaking lies. Earlier it was Garibi Hatao, then it was MNREGA, and now it's FDI. We don't want another East Indian company here."
"We don't want to debate on the FDI issue with Manmohan Singhji or Montek Singh Ahluwalia. We know our country better", said the JD-U president.
On the CII statement that the Sept 20 Bharat Bandh cost the country Rs 12,000 crore, Yadav said: "And how much loss was caused by Coalgate, 2G and other scams? And will you compute the losses that occured due to the 100-year-long freedom struggle?"
"I had told Gadkariji (BJP chief) that I was not in favour of bandh. By stopping trains and buses, we are inconveniencing the very people for whom we profess to fight. The Bharat bandh was actually being carried out by traders", Yadav said.  
Praising Mamata Banerjee as a fighter and a mass leader, Yadav said, "had there not been Mamata, God knows what these people would have done to the country. This government did not abide by the promise given on the floor of Parliament by Pranab Babu that FDI in retail will be brought only after consultations with all parties. How can a democracy function, if the government breaks its promises?"
The NDA convenor said, "BJP is both a liability and an asset. Had there been no BJP, the Bharat Bandh would have been a flop.   Similarly any Third Front can be effective, only when it has a cemeting force, either the BJP or the Congress. The Third Front cannot run on its own."
Yadav praised President Pranab Mukherjee saying "the nation's democracy is safe in his hands."
Aap ki Adalat with Sharad Yadav will be telecast on India TV on Saturday (Sept 22) at 10 pm and on Sunday (Sept 23) at 10 am and 10 pm.