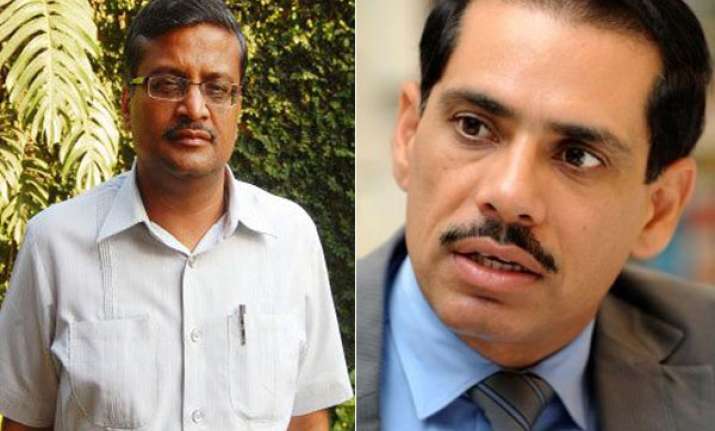 Gurgaon, Oct 26: Companies belonging to Robert Vadra, son-in-law of Congress president Sonia Gandhi, purchased nearly  200 acres of land in Haryana over a period of seven years, reports reveal.
Seventy-four acres of land was purchased in Palwal, 52 acres in Faridabad, 47 acres in Gurgaon and 27 acres of land was purchased in Mewat, according to a report pubished in daily Jagran.  
The  deputy commissioners of these districts have sent reports to the state government saying, the plots were not undervalued and no irregularities have been found, says the report.  
The reports from deputy commissioners will pave the way for the 3-man inquiry committee set up to probe into IAS officer Ashok Khemka's charges to give a clean chit to Robert Vadra.  
The plots of land in Palwal, Faridabad, Gurgaon and Mewat were purchased through nearly 24 registries.
Ashok Khemka while cancelling the mutation of  3.5 acre land deal between DLF and Vadra's company had, in his capacity as Director General of Land Consolidation, ordered the deputy commissioners of Mewat, Palwal, Faridabad and Gurgaon to inquire into all land deals by Vadra's companies.  
The deputy commissioners were supposed to give their reports by October 25.  
Wazir Singh Goyat, Mewat deputy commissioner, Vijay Dahiya, Palwal deputy commissioner and P C Meena, Gurgaon deputy commissioner gave their reports on Tuesday itself, while Faridabad deputy commissioner Balraj Singh gave his report on Thursday.
These reports state that there was no irregularities in valuation of land and payment of stamp duty by Vadra's companies.  
The new DG of Land Consolidation Vikas Yadav, who has come in place of Khemka, says, he is yet to fully take charge and was unable to speak on the issue.  
Meanwhile, the outgoing DG Ashok Khemka, presently in the eye of a political storm, has alleged that several thousands of acres of Panchayat land in Haryana have been grabbed by relatives of ministers, political leaders and influential persons.  
Khemka says, he has no objection as such to purchase of land by Vadra or DLF, but his objection was confined to irregularities in land purchase.  
"The new director general has now power to revise the order that I have issued", says Khemka.  
The senior IAS officer said, he had framed the draft  Land registration rules, 2012, and had sent it to the Additional chief secretary (revenue) for implementation.  
According to Khemka, nearly one-third of the panchyat land in Haryana has been grabbed by private owners.