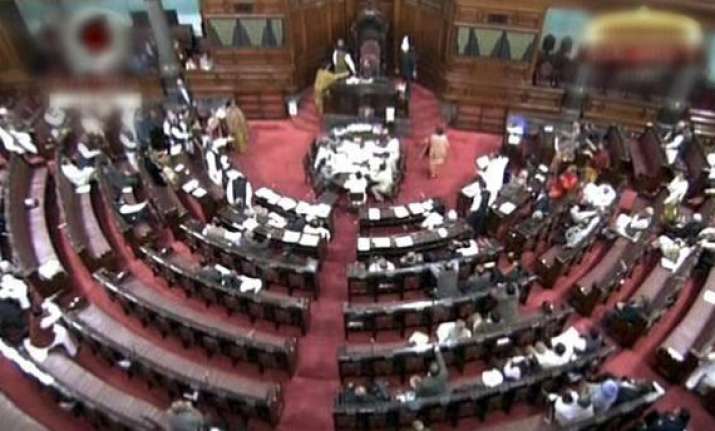 New Delhi, Dec 11:  SP members today created uproar in Rajya Sabha protesting against any move to consider a bill that provides for reservation to SCs/STs in government job promotions.
The House had to be adjourned repeatedly as they kept chanting slogans against any such measure. The bill providing for reservation to SCs/STs in promotions in government jobs was listed in the day's business.
As soon as the House met for the day, SP members were on their feet objecting to the bill at a time when BJP was raising the Wal-Mart lobbying issue.
When the House reassembled after lunch, SP members rushed to the Well raising slogans against the bill.  Deputy Chairman P J Kurien asked the protesting members, who were later joined by Shiv Sena members, not to disrupt the proceedings.
Though Minister of State in PMO V Narayanasamy rose to table the bill, Kurien adjourned the House till 3 PM amid din.  
But, the unrelenting SP members again trooped into the Well as soon as the House reassembled.  
E M Sudarsana Natchiappan, who was in the Chair, repeatedly asked the sloganeering members to get back to their respective seats, but SP members refused to oblige.  
As they kept shouting, "promotion mein reservation nahin chalega, nahin chalega (no reservation in promotion)", the Chair adjourned the House till 4 PM.
BSP has threatened to take a "tough stand" in case the government did not help bring order in the Rajya Sabha and get the bill passed.
"We will see for two-three days more. We will see government's stand on the issue. What they do and what the Chairman of Rajya Sabha says.
Then, we will decide and a take a tough stand. The SC/ST bill is a very serious issue for us," BSP chief Mayawati had said yesterday.