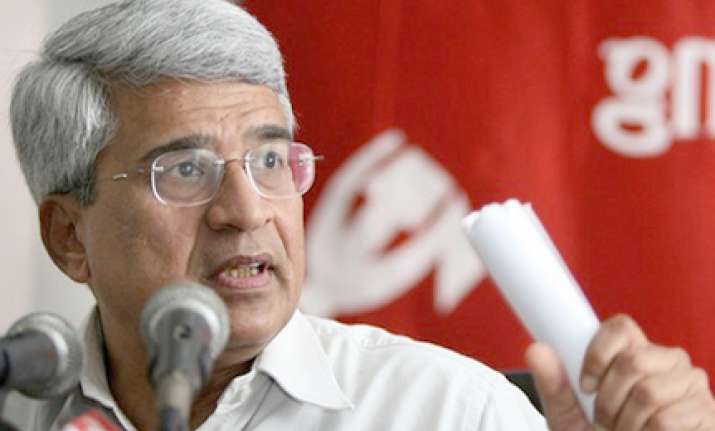 The CPI(M) on Monday  accused the UPA government of failing to check prices and succumbing to US pressures on climate change and economic policies even as its top leaders decided to launch a nationwide agitation against the administration's moves. 
The party's Central Committee, at a three-day meeting, also adopted a document to initiate a rectification campaign among its leaders and cadres to remove "wrong trends and shortcomings" at the political, organisational and ideological levels to strengthen itself. 
The rectification document's recommendations would be implemented at all levels of the party from next month and the first phase would be over by June 2010, General Secretary Prakash Karat said in New Delhi.
On economic issues, he said the UPA government was giving bonanzas to the rich by resorting to disinvestment of profitable public sector firms and encouraging FDI inflow in insurance and education sectors but "miserably failing" to contain rising prices. 
Asking the government to firmly resist US pressure on climate change negotiations and not accept any target for carbon emission reduction unilaterally, he said India should continue to press for fund and technology transfers from developed to developing countries as compensation for damage caused by their "historical emissions". 
The Central Committee discussed a wide range of issues which also included the attacks by Maoists on party cadres, the role of Hindutva terror groups, Sri Lankan situation and Doha Round of WTO negotiations. PTI