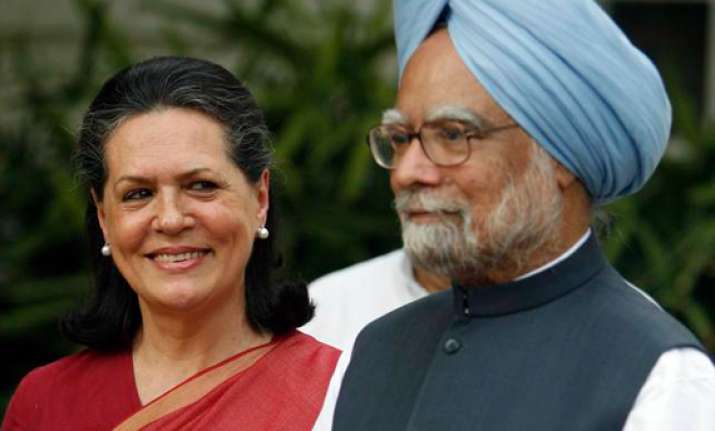 New Delhi, Nov 21: With the threat of a no confidence motion looming over parliament's winter session starting Thursday, the ruling UPA's strength stands at 245, less than the majority mark.
The total strength of Lok Sabha is 544, making the majority mark 272.
The United Progressive Alliance (UPA) lost 11 seats after Trinamool Congress pulled out two months ago over the decision to allow foreign direct investment (FDI) in multi-brand retail. This made the government dependent on parties extending support from the outside.
The UPA, with its main allies, now has 245 members. To reach the halfway mark, it needs 27 more.
Extending outside support, Samajwadi Party (SP), Bahujan Samaj Party (BSP) and Rashtriya Janata Dal (RJD) together have 47 seats, which adds up to 292, a majority. Other parties extending outside support to the government have nine seats, taking the number further up to 301.
The two largest non-government and non-opposition parties, SP and BSP, have 22 and 21 seats respectively.
However, SP has predicted early general elections and announced a list of candidates for the Lok Sabha polls, putting its stand in doubt.
The BSP is also against FDI in retail. It is unclear if either of the two will vote for or against the government.
Opposition National Democratic Alliance (NDA) has 150 seats, Trinamool Congress has 19 and Left parties have 24 seats.
However, neither the BJP nor the Left have made their stand clear.
Among other major parties not with the government are Biju Janata Dal with 14 seats, AIADMK with nine seats and Telugu Desam Party with six seats.
Here is the list of seats of parties in UPA and those supporting it from outside.
Parties constituent of the UPA:
Congress: 206
NCP: Nine
DMK: 18
National Conference: Three
Indian Union Muslim League: Two
Rashtriya Lok Dal: Five
Kerala Congress: One
VCK: One
Seat strength of parties offering outside support to UPA:
SP: 22
BSP: 21
RJD: Four
Janata Dal-Secular: Three
Nagaland People's Front: One
Bodoland People's Front: One
Swabhimani Paksha: One
Bahujan Vikas Aaghadi: One
All India United Democratic Front: One
Sikkim Democratic Front: One
Seat strength of parties in opposition National Democratic Alliance (NDA):
Bharatiya Janata Party: 115
Janata Dal-United: 20
Shiv Sena: 11
SAD: Four
Seats of Left parties:
Communist Party of India-Marxist: 16
Communist Party of India: Four
All India Forward Block: Two
Revolutionary Socialist Party: Two
Seats of others parties:
Trinamool Congress: 19
Biju Janata-Dal: 14
AIADMK: Nine
Telugu Desam Party: Six
Jharkhand Vikas Morcha: Two
Telangana Rashtra Samity: Two
YSR Congress Party: Two
AIMIM: One
Asom Gana Parishad: One
Haryana Janhit Congress: One
MDMK: One
Sikkim Democratic Front: One
Independents: Nine
(Figures taken from the Lok Sabha website)