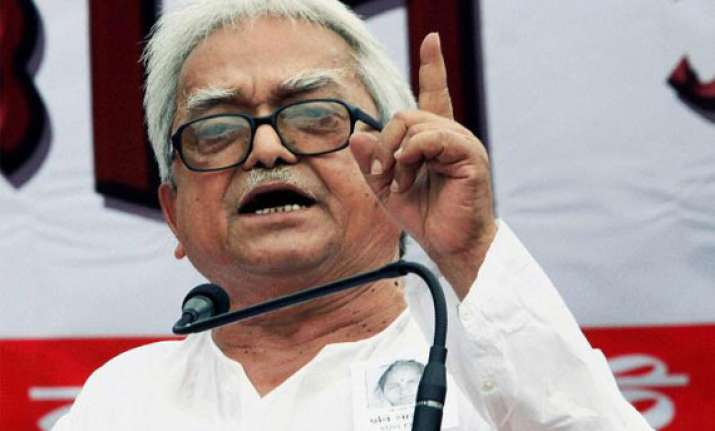 Kolkata, Feb 25: Terming India's rate of price rise the highest in the world, the CPI-M Sunday blamed the Congress-led UPA government's policies for creating a tendency of suicide among farmers.
"The rate at which prices of all commodities have been rising is phenomenal and it is highest among all the countries of the world. Due to the ever increasing cost of farming, there is a growing tendency among farmers to commit suicide," Communist Party of India-Marxist (CPI-M) leader Biman Bose told media persons here.
He claimed that more than 2,90,000 farmers have committed suicide in the country since 1995.
"Not only do the farmers have to cope with constant price rise of fertilizers, seeds, irrigation, they are being compelled to make distress sale of the produce as they are not getting even the minimum support prices," said Bose.
The CPI-M is conducting 'Sangharsh Sandesh Jatha' which will traverse the length and breadth of the country highlighting problems and issues faced by the people and to set out alternative policies advocated by the party.
There will be four main 'jathas' - marches - starting from Kanyakumari, Kolkata, Mumbai and Amritsar converging at Delhi March 19 where there will a massive rally.
"The policies of the UPA government have resulted in continuous price rise, agrarian distress, growing unemployment and massive corruption. There is no difference between the Congress and the BJP (Bharatiya Janata Party) as far as their basic policies are concerned," Bose said.
"The jathas are aimed strengthening non Congress- non BJP forces," he said.
The Kanyakumari march led by S. Ramachandran will begin Feb 24, from Kolkata Prakash Karat will lead from March 1. The Amritsar group led by Brinda Karat will also begin March 4 while the Mumbai march led by Sitaram Yechuri will commence March 8.
The focus areas of the marches are: right to land and house-sites; curb price-rise and give right to food; right to education and health, right to employment, ensure social justice and rights of women; and end corruption.