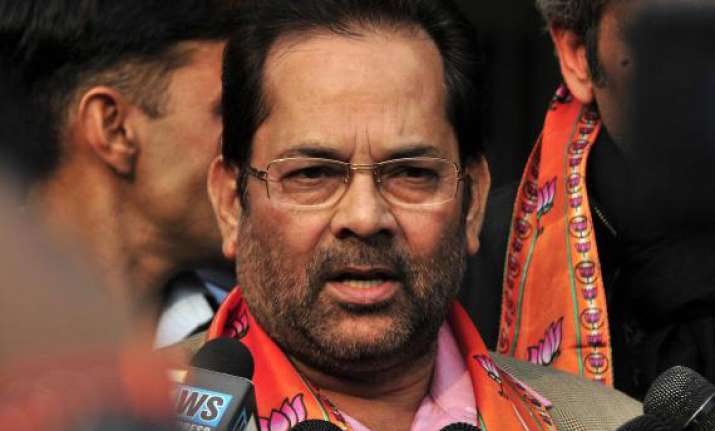 Rampur, UP: BJP Vice President Mukhtar Abbas Naqvi on Sunday attacked the Congress-led UPA government, alleging the country has been pushed back by 100 years during its decade-long "misrule."
"The country has been pushed back by 100 years during the decade-long misrule of the UPA. Earlier, we used to say saare jahan se achcha (best in the world), now it has become saare jahan se pichhda (the most backward in the world) Hindustan harama," Naqvi said at a workers' convention here.
He said that the workers should take a resolution to end this "misrule" of the UPA government.
Praising Gujarat Chief Minister Narendra Modi as a progressive, thinking leader from the backward community who has not bound himself in a caste or region, Naqvi said, "The Modi-torch has been lit up not only for power, but to bring about a systematic change."
"The thorns in Modi's path will prove to be a nail in Congress' coffin," Naqvi added.
Naqvi, who is also the Chairman of Central Election Management and Programme Committee, said that the country was facing serious "economic drought."
"Congress has become a political calamity for the country. Rupee is depreciating day by day and the economic globalisation has turned into global indebtedness," he said.
Naqvi also alleged that it was due to lack of leadership of the Central government that even small nations were glaring at India.
"The situation is such that Pakistan sends terrorists and hacks heads of our jawans whenever it wants to. They are promoting terrorism and we are waiving flower of friendship," he alleged.
"This government has failed to realise that peace does not rain from the clouds of terrorism," Naqvi said, claiming that there was an atmosphere of insecurity and war-like situation at the border.