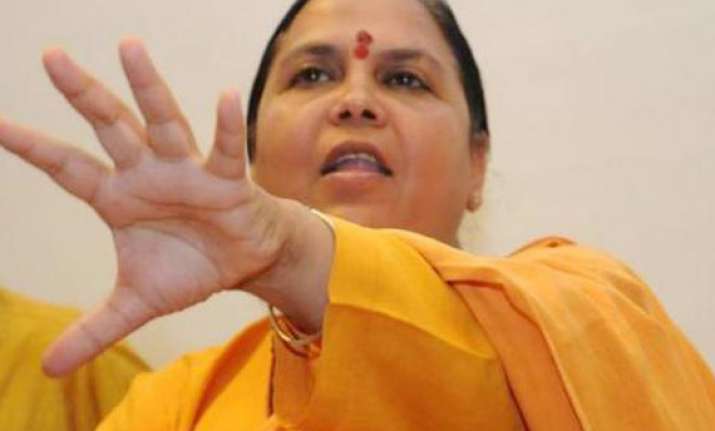 Bhopal: BJP leader Uma Bharti yesterday suggested an out-of-court settlement on the Ayodhya dispute involving a joint effort by Prime Minister Manmohan Singh, Samajwadi Party chief Mulayam Singh Yadav and party patriarch L K Advani.
"In view of the ongoing controversy over granting permission for the Panchkroshi Yatra and since the matter is related to the Ayodhya dispute, it would be better if both the centre and state government initiate a proposal for an out-of-court settlement of the dispute for the benefit of the coming generations," Bharti told reporters at her residence.
The BJP vice president said, "I suggest that Manmohan Singh, Mulayam Singh, and L K Advani could initiate a proposal for brokering an out-of-court settlement on Ayodhya dispute and tell the court about it".
She said that this way a grand temple of Lord Ram could be constructed at the existing site in favour of which the court had also given its verdict earlier.
"I am suggesting the names of these leaders as Muslims have more faith in them than VHP or others in this particular issue," she said.
Bharti said that an effort was made to sort out the matter out of the court during the tenure of then Prime Minister Chandrashekhar.
"I still believe that the solution can be found out in this manner," she said.
To a query, Bharti said Congress general secretary Digvijay Singh could also join the above leaders in finding a solution to the problem.
On Vishwa Hindu Parishad-led 'Panchkoshi Yatra', which is scheduled to start on August 24, around Ayodhya to revive demand for construction of Ram temple, Bharti said the timing of the Yatra has nothing to do with politics as it is a religious matter and cannot be stopped.
Uttar Pradesh government has decided to ban the Yatra.