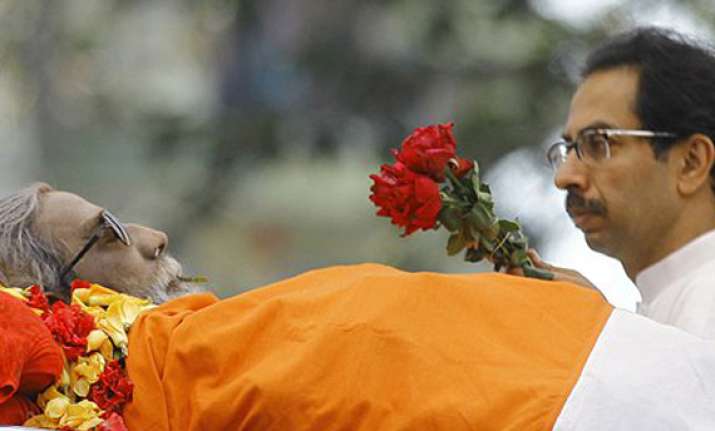 Nagpur, Dec 15: Shiv Sena Executive President Uddhav Thackeray Friday asked partymen to stop grieving and work towards fulfilling the dreams of his late father.
"I will be organising party conventions in all regions of the state, including Vidarbha, from January. I resolve to fulfil every dream that Balasaheb had. I will take Maharashtra to its glorious past," he told a party rally here.  
This was Uddhav's first visit to the city after the death of his father Bal Thackeray on November 17. Sena youth leader and Uddhav's son Aditya was also present at the meet.  
Without taking names, he said he was ready to take on his detractors and political rivals on the issue of building a memorial of Thackeray on Mumbai.
"Stop grieving and shedding tears. I see the flame in you that Balasaheb has ignited. Let us take on the opponents. I am ready to lead the state and make it No.1 in the country."
Uddhav (51), who has undergone angioplasty procedure twice since July and was looking frail, in his 15-minute emotional speech said, "I have been through a major tragedy. I have come here to share my grief with you as head of the Sena family. 
Let us keep the saffron flag flying high." He said he declined to assume the title of 'Shiv Sena Pramukh' because "I know and everyone knows that no one can replace him (Bal Thackeray). He had unique qualities.
The way he inspired people with his thoughts, ideology and united people across the state, no other person can do. There was, and there will be, only one Sena Pramukh".  
Speaking on the occasion, party legislator Ramdas Kadam singled out NCP for criticism.
He said the Sena would "expose" the Sharad Pawar-led party, which is part of the Congress-led ruling coalition in the state, for its alleged role in irrigation and other scams.