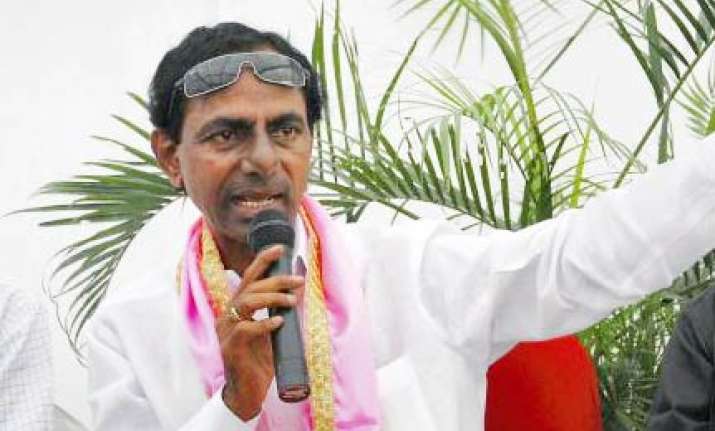 As Andhra Pradesh heads for by-elections in 10 Assembly seats, a sort of mini- referendum, whether the people of Telangana region want a separate state or not- region's politics is all set for a major realignment of forces.
Telangana Rashtra Samiti, which has every thing at stake in the by-elections in five districts of the region, has extended hand of friendship towards the Bharatiya Janata Party. The two parties, who are the most vocal and aggressive supporter of separate Telangana state, have decided to fight the by elections together to win all the seats and send a clear message that wind was blowing in favour of smaller state.
TRS president K Chandrasekhara Rao and state BJP President G Kishan Reddy have discussed the idea of understanding for the by elections and lay the foundation for a future tie up.
Under this tie-up, the TRS will extend full support to the BJP's candidate Y Lakshminarayan in Nizamabad Urban Assembly constituency and the BJP will return the favour in nine other constituencies.
Lakshminarayana was the only BJP legislator to resign along with the TRS legislators to press their demand for Telangana state.
Several pro-Telangana organisations are demanding that all the Telangana legislators who sacrificed their seats for the sake of separate state should be unanimously re-elected. But the Congress and the Telugu Desam have rejected the call and decided to try their luck hoping that in the changed atmosphere they will be able to snatch a few seats away from TRS.
State Congress president D Srinivas, who lost the 2009 elections in home constituency of Nizamabad Urban, has decided to enter fray against the BJP candidate and invited the wrath of the Telangana supporters.
K Chnadrasekhara Rao has offered his full support to the BJP candidate and told the BJP president that he will under take election campaign in the constituency.
The BJP, on the other hand, has decided to invite its national leaders, including fiery speaker Sushma Swaraj, to address election meetings in the other nine constituencies where TRS will be contesting.
The idea of tie up was received with overwhelming support from other state leaders of the BJP who were worried over the declining fortunes of the party and shrinking base in Andhra Pradesh.
If BJP-TRS tie up succeeds in Nizamabad Urban constituency, the two parties were hopeful of forming a winning combination for the future electoral battle.
The two parties have also agreed to form coordination committee to run a combined election campaign with the slogan of Telangana state. The BJP leaders will also have coordination with the Telangana Joint Action Committee headed by Prof Kodanda Ram.
BJP has also decided to intensify its campaign in Nizamabad Urban constituency where its candidate will be facing the state Congress president D Srinivas. The by election is crucial for the BJP because it had won only two assembly seats in 2009, Nizamabad Urban and Ambpert in Hyderabad.