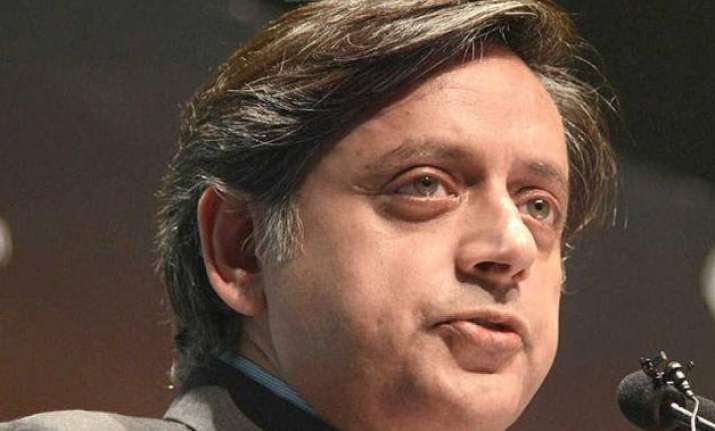 New Delhi:  Congress MP Shashi Tharoor on Friday said he was "touched" by Prime Minister Narendra Modi's "graciousness" in praising him for his Oxford Debate speech.
"I am very touched by his graciousness and his generosity of praise. He is a very fine orator to say these words for me. "I think we need to have the ability to respect people across party lines. We have different political values and affiliations but we can respect each other," Tharoor said.
Tharoor, however, later said he hoped that no one should read anything else into Modi's praise beyond the prime minister's act of showing graciousness.
He, however, reiterated his party's demand for resignations of Union minister Sushma Swaraj and two BJP chief ministers Vasundhara Raje and Shivraj Singh Chauhan.
Tharoor had on Thursday  said that politicians can respect each other across party lines but that does not mean they have to abandon values of their parties.
Modi had showered praise on Tharoor, the only Congress MP present at a function organised by the Lok Sabha Speaker for MPs, while talking about the need for free airing of views on national issues irrespective of the party affiliations.
"Oxford debate has a huge significance. It is good that Shashi ji was there.... What he spoke there reflected the sentiments of the citizens of India," Modi had said while inaugurating a workshop on the Speaker's Research Initiative (SRI) to train MPs on various subjects of global importance.
Tharoor also termed as "hasty" the Ufa joint statement of India and Pakistan after talks between Prime Minister Modi and his Pakistani counterpart, saying there was not much homework done by the government.
"There was not much homework done in Ufa (Russia) and the immediate incidents just after 48 hours of the joint statement suggested that it was a hasty decision," he said while speaking at a panel discussion on the book 'Indian Foreign Policy' by Sumit Ganguly.