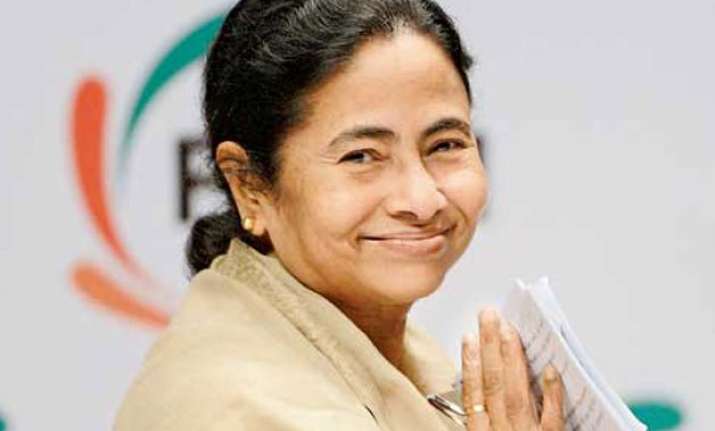 New Delhi: While gearing up for a meeting with Prime Minister Narendra Modi, West Bengal Chief Minister Mamata Banerjee said that the focus of her meet with the PM would be state's rights.
She also told that the interest waiver on repayment of Bengal's huge debt would be the agenda of the meet.
While inaugurating a flyover on Sunday, the Bengal Chief Minister further said," We are not begging and we do not want mercy. We just want the state's rights."This she said while in an interview with Hindustan Times daily.
Interestingly, she said that also holds a lucrative proposal for the central government. She said, "The central government is taking away Rs 42,000 crore from us. Our point is you do not take away the money. Give us the money and we will give you half of it," she said while inaugurating the flyover between Keshtopur and Raghunathpur at the VIP road.
She further explained that at one point the government would be taking away Rs 42,000 crore from the state's revenue income (income tax, cess and excise duty) and then would give the state Rs 8000 crore, which is pointless.
She further questioned the government, "Why did you allow the predecessors to borrow so much and leave such a huge debt? Why should we pay someone else's debts?"
She also remarked that in the last three-and-a-half years, the Centre has taken away a total amount of Rs 1 lakh crore from West Bengal.
Meanwhile, the Communist Party of India-Marxist (CPI-M) on Sunday described Banerjee's Monday meet with PM as 'home-coming' for the Trinamool Chief.
Party's Lok Sabha MP Mohammad Salim taking a dig on Banerjee said in a rally on Sunday in Kolkata, "During Lok Sabha polls, Banerjee had said she would drag Modi to jail tying a rope round his waist. The people now want to know if you are carrying a rope or taking a rakhi to solidify your ties with Modi," asked Salim on a day when Banerjee left for Delhi.