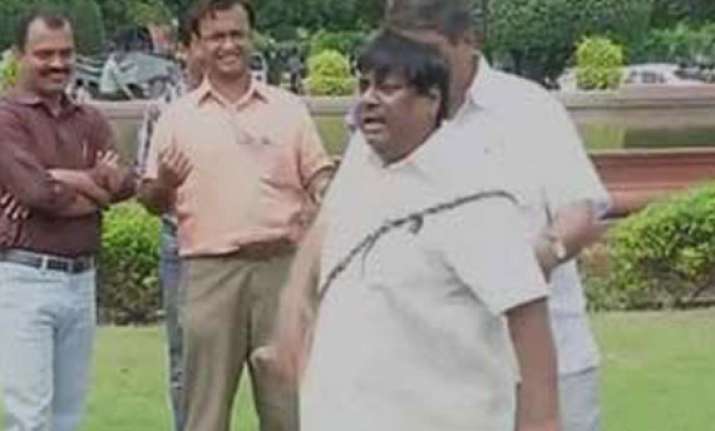 New Delhi/Hyderabad: Telugu Desam Party MP N. Sivaprasad, who is known for his antics, Thursday lashed himself with a hunter outside parliament to draw attention to "injustice" meted out to Seemandhra by the Congress by deciding to carve out separate Telangana state.
Sivaprasad was holding a hunter in his hand in Lok Sabha and had rushed to the speaker's podium along with others when Parliamentary Affairs Minister Kamal Nath moved a resolution for suspending 11 MPs from Seemandhra including four of TDP for disrupting the house.
Later, the TDP MP told reporters outside parliament that it was conveyed to him and other MPs in the morning that a committee would be set up into look into the issues raised by Seemandhra leaders but a few minutes later, a motion was moved to suspend them.
"We want justice," he uttered in Telugu and started whipping himself in front of television cameras as his party colleagues tried to pacify him.
In a novel protest last week, the MP from Chittoor had come to Lok Sabha dressed as Sri Krishna. He was wearing a crown and a garland and holding a flute and Sudarshan Chakra. The MP's conduct had drawn ire of the deputy speaker.
Sivaprasad, who acted in a few Telugu films in the past, later addressed media outside the parliament in Sri Krishna's garb and sang a parody on Congress president Sonia Gandhi.