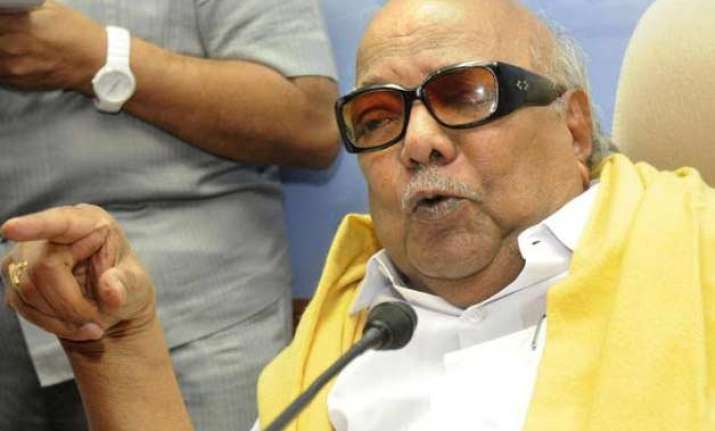 Chennai: DMK president M Karunanidhi today slammed Tamil Nadu Chief Minister O Panneerselvam for his statement that the state's 2015-16 budget proposals were prepared under the directions of AIADMK supremo Jayalalithaa and said such an act amounted to violating oath of office and secrecy.
"The budget is a confidential document which should be prepared by those in the government without the knowledge of outsiders. If Panneerselvam himself accepts it was prepared under Jayalalithaa's directions, doesn't it mean he had violated his oath of secrecy?" Karunanidhi demanded in a statement here.
He also sought to know if a budget can be prepared under the directions of a convicted person, obviously referring to the Rs 66.66 crore disproportionate assets case in which Jayalalithaa was convicted by a Bengaluru special court.
Jayalalithaa has already challenged her conviction in Karnataka High Court which has reserved orders.
While presenting the budget in the Assembly on March 25, Panneerselvam, who is also in charge of Finance Department, had stated that "I am also proud to inform this august House that each and every word and the underlying spirit behind this Budget statement are founded on the profound guidance provided by our Honourable Puratchi Thalaivi Amma (Jayalalithaa)."
Karunanidhi objected to the state Information Department mentioning AIADMK supremo J Jayalalithaa as Chief Minister in its official website.
Citing reports in a section of the media, he said the Information and Public Relations Department had mentioned Jayalalithaa as Chief Minister and incumbent Chief Minister O Panneerselvam as Finance Minister.
Further, this department had conducted a photo exhibition on Jayalalithaa's birthday in February, and Panneerselvam's photo was not found even for "name's sake", he said.
The Information and Public Relations department was an important one, he said and asked who was responsible for its very website not addressing such a mistake, whether the Minister concerned or officials.
"Do they think they cannot be questioned and whether that is the reason for the mistake?" Karunanidhi asked.