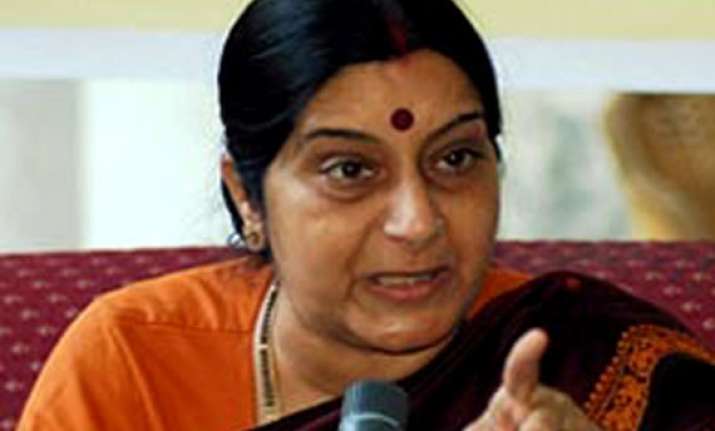 Panaji, Jun 8: Leader of Opposition in Lok Sabha Sushma Swaraj, spearheading the Advani camp in the absence of the leader, is reportedly angry over today's protest outisde Advani's residence in Delhi by a group of pro-Modi supporters.
"Is this the way poltiics will now be conducted", Sushma Swaraj reportedly remarked on hearing news about the protest.
Sushma Swaraj had been pressing for keeping in abeyance the decision to declare Narendra Modi as the chairman of BJP campaign committee, citing the absence of Advani.
Another Advani supporter Yashwant Sinha, who is not attending the Goa meet, told reporters that he was not struck by "NaMonia", but was staying away because of some other reasons.
Rajasthan stalwart Vasundhare Raje today left for Jaipur after attending the first day of the Goa meet, saying that she had to begin her Suraaj Sankalp Yatra in view of the impending Rajasthan assembly elections.
Chhatisgarh chief minister Raman Singh, another pro-Advani leader, said, he was ready to offer the Raipur Lok Sabha seat to Advani to contest. "Ramesh Bais has agreed to vacate his Raipur seat for Advaniji. It is a safe seat", said Raman Singh.
Advani is presently MP from Gandhinagar, Gujarat, but has expressed opinion in private that he was unlikely to contest any more from Gujarat.