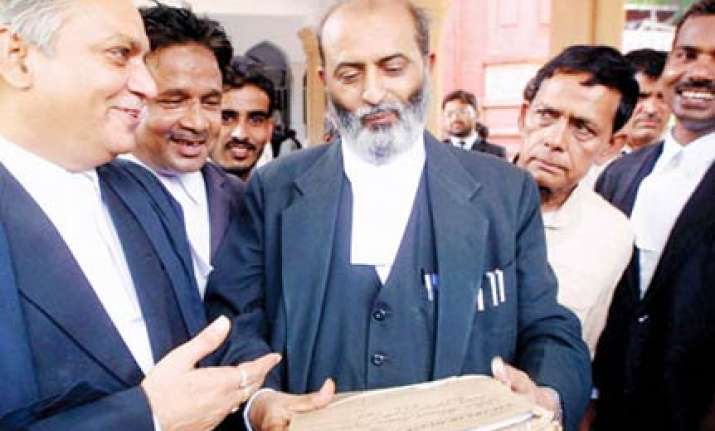 New Delhi/Lucknow, Oct 5: Dissatisfied with the Allahabad High Court verdict on the Ayodhya title dispute, the Sunni Central Waqf Board has decided to challenge it in the Supreme Court by the end of this month or early November.   
Sunni Waqf Board, which is one of the parties to the Ram Janmbhoomi-Babri Masjid title dispute, said that it is studying the over 8000-page judgements delivered by three judges of the Allahabad High Court's Lucknow bench on September 30.  
"I had said after the judgement came that we need at least a month to prepare a challenge. I think we will be ready to approach the Supreme Court in the last days of October or in the early days of November," the Board's counsel Zafaryab Jilani told PTI.   
Jilani said he was thoroughly studying the judgement of the bench, and that there are "several grounds" on which the verdict will be challenged in the Supreme Court.   
In Lucknow, Board Chairman Zafar Ahmad Farooqui said no person had been authorised to explore possibilities of an out-of-court settlement on the issue.   
"On the basis of the legal advise from experts, it was decided to challenge the verdict in the apex court," he told PTI.   
In its much-awaited verdict on September 30, the HC had ruled for dividing the disputed land in Ayodhya among three parties -- the side representing Ram Lalla, the Nirmohi Akahara, and the Waqf Board.   
Following the HC bench's ruling, Jilani had said that his side was partly disappointed by it.  Some prominent members of the Muslim community had reacted to the ruling, saying it looked less of a court verdict and more of a 'balancing act'. Others had said, it appeared to have given more weightage to 'faith' rather than facts and evidence. PTI