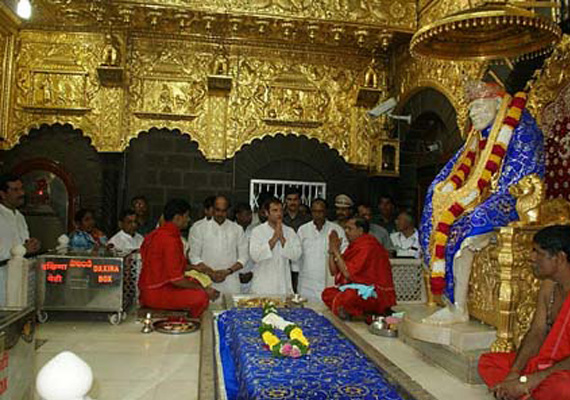 New Delhi, July 28: Miffed over the "unconstitutional" two-class system prevalent at many Hindu shrines, a Congress functionary has urged party vice president Rahul Gandhi and the government to address the issue.
"Why do the so-called VIPs need special treatment in the holy spiritual shrines," asked Pradeep Kumar Kunche, coordinator in the scheduled tribes department of the Congress. "As per all religions, all humans are equal and the Constitution of India provides the right to equality," he said.
Besides writing to Rahul Gandhi, Kunche told IANS that he has shared his views with other Congress office bearers and some central ministries.
According to Kunche, a mechanical engineer by training, "it is high time that elected representatives and governments should take note that society is being divided into two classes of people - the elite and commoners."
Such a practice violates the spirit of Indian democracy and would give a wrong message to the youth, Kunche felt.
"A democratic nation, where the government is of the people, by the people and for the people, cannot prevent this gross discrimination, gross injustice and indirect corruption which seems to have the endorsement by people who are framing the laws and ensuring the laws are implemented as laid down in constitution," he lamented.
Kunche further argued that the common people suffer delays at such shrines in more ways than one.
"Most of the common people are from the low income group or are either daily wage labourers or unorganised sector employees. For them, a visit to a shrine means losing a few days of income, apart from the cost of travel and food."
"In these circumstances, it is good to arrange the darshan as quickly as possible for the common people," he said.
Suggesting that special treatment for VIPs at religious shrines be done way with, Kunche said the number of such high-profile visits should be restricted.
"It is a fact that one so called VIP darshan causes delay to at least few hundred common people," he pointed out.
Suggesting ways to deal with the issue, he said the so-called VIPs should apply one month in advance with the preferred dates of visit with at least four dates so that based on the number of visitors on those days the VIP quota could be divided on first-come-first-served basis.
"This will certainly bring justice to the common people visiting the shrines with lot of hope and aspiration," Kunche added.
Noted social scientist Dipankar Gupta said this "has been the continuous crisis of the Hindu religion".
"The Hindu religion has always separated the rich and the powerful...such systems have been there," Gupta told IANS.