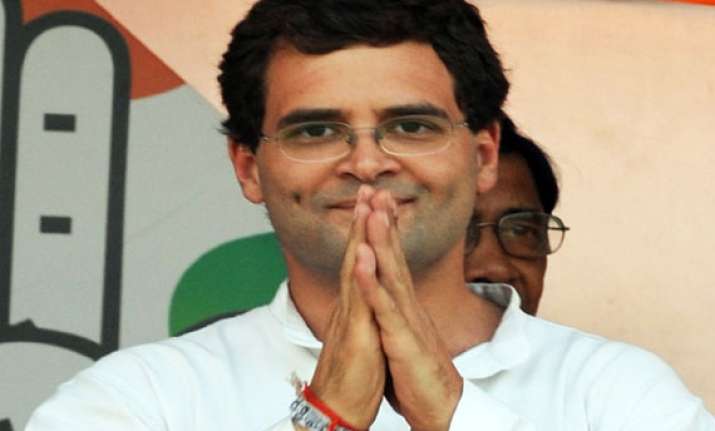 New Delhi, Feb 17: Congress vice president Rahul Gandhi may have to take an early call on the issue of alliances ahead of the Lok Sabha elections.
This became clear today with a meeting of the state PCC Chiefs and CLP leaders witnessing demands for clarity in the matter as early as possible.
Party sources said that Maharashtra PCC Chief Manikrao Thakre raised the issue at the meeting which was also attended by Chief Minister Prithviraj Chavan.
Congress is in alliance in Maharashtra with the NCP for the last 14 years, sharing power in the state since 1999 and at the Centre since 2004.
Striking a similar note, Jharkhand PCC Chief Pradeep Balmuchu's contention was that an early decision on the issue of alliances would help Congress gain strength.
Uttar Pradesh CLP leader Pramod Mathur raised the issue of "alliance at what cost?" while the contention of UPCC Chief Nirmal Khatri was that the foremost task was to set the Congress house in order at a time when the party has a "credible" leader, programme and ideology.
In the last Lok Sabha polls, Congress and the Samajwadi Party had held seat sharing talks for long without any success.
With Trinamool Congress walking out of the UPA, West Bengal PCC Chief Pradip Bhattacharya said that there was no question of any alliance in the state and "we are going it alone".
The demand for early decision on Telangana voiced by Andhra Pradesh Chief Minister Kiran Kumar Reddy and PCC Chief Botsa Satyanatayan Rao is also seen as an attempt to get the TRS on board.
Congress leaders privately say that a positive decision on Telangana could help ensure the party maintaining a respectable tally in the state where the separate statehood issue as also emergence of the YSR Congress has hit it hard.
Andhra Pradesh is the only major state where Congress has formed government on its own and the spectacular victory there ensured the party remained in power at the Centre since 2004.