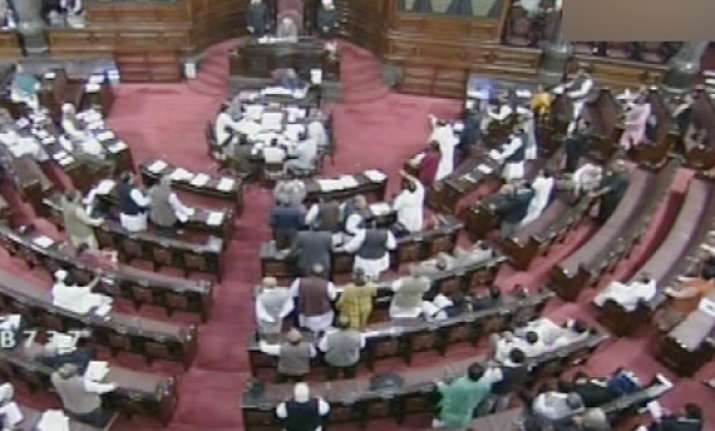 New Delhi, Dec 6: The Congress was today  "relieved" after BSP supremo Mayawati announced that her 15 MPs would support the government in the motion on FDI in multi-brand retail but kept its fingers crossed and continued efforts to muster support ahead of the crucial vote Friday.
The UPA government lacks majority in the upper house, with its numbers much below the halfway mark of 123 in the 244-member house.
But if the Samajwadi Party's (SP) nine members walk out or abstain from voting, the effective strength of members present and voting would come down to 235, pulling down the halfway mark to 118.
"We are relieved (after Mayawati's announcement) but we will keep trying to garner support till the vote is over," said a senior Congress leader, who did not wish to be named.
The UPA strength is 89 and would climb to 104 with the addition of Bahujan Samaj Party's (BSP) 15 members. If the strength of parties supporting the government from outside like Rashtriya Janata Dal (2), Lok Janashakti Party, Nagaland People's Front, Bodoland People's Front and Sikkim Democratic Front (one each) is added, the UPA tally goes up to 110.
The Bharatiya Janata Party (BJP) and its main allies Janata Dal-United, Shiv Sena, and Shiromani Akali Dal together have 65 votes. If the 14 members of the Left parties and nine of Trinamool Congress are added, the count of votes against foreign direct investment in multi-brand retail will be 88.
Parties like Biju Janata Dal (7), Asom Gana Parishad (2), AIADMK (5), and Telugu Desam Party (5) will further take the opposition tally up to 107 -- just three short of the government tally of 110.
Congress managers claimed most of the seven Independent MPs will support the government. Even if four of them vote in support, the UPA tally will be 114, they said.
Out of the 10 nominated members, three including cricketer Sachin Tendulkar, actress Rekha and Congress leader Murli Deora may not be present due to personal reasons, said the sources.
If the remaining seven nominated MPs go with the government, the UPA tally will be 121, just 2 short of the half-way mark of the total house strength, sources said.
However, they said the picture would become clear only on the floor of the house, adding that winning the vote is going to be a close fight
Congress managers said they were in touch with both the BSP and the SP, whose 43 members together helped the government Wednesday defeat the vote on the motion against FDI in the Lok Sabha.
A section of the Congress leaders said the SP could walk out or abstain from the vote, as it did in the lower house.
"We don't know how the SP will behave during the vote," said the Congress leader adding" "We have to keep trying to get the numbers on our side till the voting is over."
The SP has kept the government guessing so far.
SP leader Ram Gopal Yadav had said if there is a vote on FDI in Rajya Sabha, his party will vote against it. But party chief Mulayam Singh Yadav toned down his remarks hours later and said a decision will be taken at the right opportunity.
The motion is being debated under rules 167-168, which entail voting.
Here is a summary of today's live reporting of the daylong debate marked by pandemoniums:
7:45 pm: The House adjourns for the day after P C Gupta (RJD) and C P Narayanan (CPI-M) finish their dreary speeches.
5:45 pm: Naidu apologizes and withdraws his remark as the House reassembles. The lady member goes outside the House and weeps in front of TV cameras.
5.32 pm: There was a big turmoil, as Naidu made an unparliamentary remark against Congress lady member Prabha Thakur. The House had to be adjourned briefly because of pandemonium.
5: 17 pm: BJP's stormtrooper Venkaiah Naidu begins his speech with barbs at both the Congress and its allies, direct and indirect. "If you are so much enamoured of FDI in retail, why didn't you declare it in your 2004 and 2009 manifestos?", he asks Congress benches.
4:09 pm: Yogendra Trivedi of NCP asked the opposition not to be 'defeatist' in its attitude. He reminded that the East India Company was now owned by an Indian.
3:56 pm:  DMK's Tiruchi Siva  said there are genuine apprehensions about FDI in retail, and the poor, illiterate small traders cannot be retrained if it is allowed in retail trade.  But, we like this govt to continue its full tenure and we support the govt, he said. We do not want communal forces to come to power, Siva said. "We have never let down our friends, we will always be with UPA", he added.
3:41 pm:  Naresh Agrawal, Samajwadi Party leader, lashed out at the government's decision on FDI, and requested the PM to withdraw the decision. "It's time for the Congress to be alert, otherwise this 'black law' will bring about your downfall".  FDI in retail will throw the farmers and small traders on the streets, he warned.
3:18 pm: Trinamool Congress' Derek O'Brien strongly opposes govt's decision on FDI saying that it would sound the death-knell for small traders.
2:50 PM: Mayawati says, BSP will vote in favour of UPA in Rajya Sabha on FDI.
12:48 pm: Leader of Opposition Arun Jaitley lashed out at the government saying, it's majority in LS is currently 18 less than the required 272. "It raises a question mark on the stability of this government. To say that 253 members supported it is a big win, is really ridiculous. This is a lameduck government. You are dependent on costly support. every day you have to pay the price for support", he said.
"Even your alliance partners are opposing FDI. Sharad Pawar's NCP in Maharashtra says they will not allow FDI in their state", said Jaitley. Even those parties who abstained or remained absent from voting have said, they will not allow FDI in their state (read UP), he added.
Jaitley challenges Kapil Sibal to go to his Lok Sabha constituency in Chandni Chowk and get an FDI retail store opened. "Are we going to blindly follow the definitions of economic reforms set by the West?", Jaitley asked.
Allowing IKEA to sell furniture here will destroy the nationwide trade of Indian carpenters and  furniture dealers, Jaitley said.  China allowed Walmart in 1996  because it has low cost manufacturing facilities. We don't have similar manufacturing here. First bring out reforms in manufacturing sector, and then think about allowing FDI in retail. Otherwise, India will become a nation of salesboys and salesgirls, and the owners will be foreign companies and the goods they sell will be foreign goods, said Jaitley.
12:31 pm: Union Minister Ashwini Kumar defends FDI decision saying its a "national imperative". Even farmers organisation have supported this decision , and it will be beneficial to farmers.
12:08 pm:  AIADMK leader Dr Maithreyan begins his speech in Tamil to the suprise of all. Rajya Sabha chairman Hamid Ansari gently reminds him that he has not given prior notice that he would be speaking in a different language.  Dr Maithreyan switches over to English.
The AIADMK member says, no conference of Chief Ministers was called nor any consensus arrived at on the FDI in multi-brand retail issue.  He said, even UPA chairperson Sonia Gandhi had strong reservations on FDI in retail during UPA-1, and Dr Manmohan Singh has also opposed it when he was leader of Opposition.