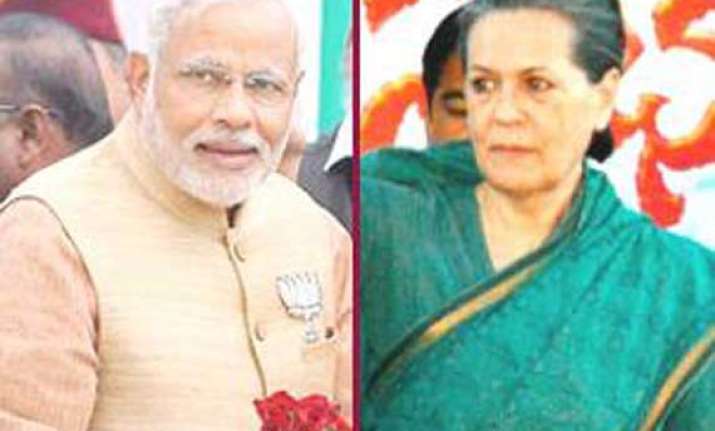 Kushinagar (Uttar Pradesh): Congress president Sonia Gandhi Thursday launched a blistering attack on BJP prime ministerial candidate Narendra Modi for dragging her late husband Rajiv Gandhi's name during campaigning for the Lok Sabha polls.
Addressing an election rally here, Gandhi said it was "ochi rajniti" (low level politics) of the BJP leader that he named the former assassinated prime minister during his election speech May 5 at Amethi, from where her son and party vice president Rahul Gandhi is contesting, for "political gain".
If Modi's naming her husband 23 years after his "martyrdom" for political benefit was not "low-level politics", what else could it be called, she asked.
Modi, at a rally in support of BJP's candidate from Amethi, Smriti Irani, May 5 had accused the Gandhis of pursuing politics of anger. He had referred to late prime minister Rajiv Gandhi, then a Congress general secretary, of humiliating an elected chief minister of Andhra Pradesh. Priyanka Gandhi, daughter of Sonia Gandhi had immediately released a statement the same evening accusing Modi of stooping to "neech rajniti" by dragging in her father's name.