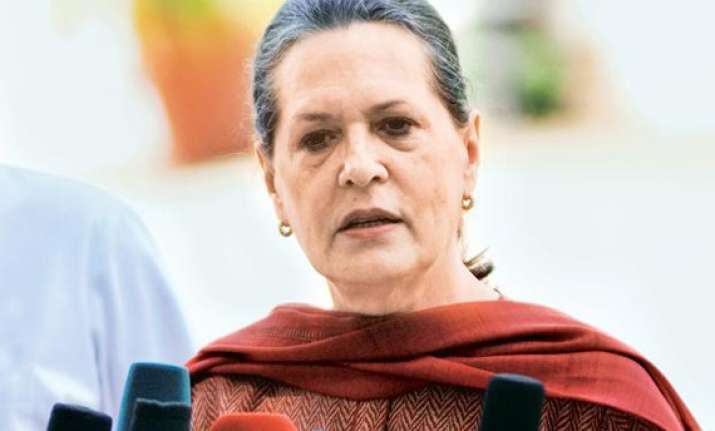 New Delhi: With the party leadership worried over major desertions by oldtimers and a weak campaign by Rahul Gandhi, Congress President Sonia Gandhi has decided to take the bull by the horns.
She will be addressing a series of election meetings across India, starting with Assam.
Sonia Gandhi will address a rally in Dibrugarh or Lakhimpur in Assam in the first week of April, because Assam will go to polls early on April 7.
She will then address rallies in Nuh (Mewat), or Gurgaon, and also in Karnal and Kurukshetra as Haryana goes to the polls on April 10.  
The party president will then address rallies in UP, Bihar and several other states to match with the poll schedule.
The current worry of the Congress leadership is to at least retain the 209 seats that it won five years ago, which appears to be a tough task.
Party strategists are banking on Sonia Gandhi, who, they think, can turn the tides of fortune, as she did in 2004, by defeating the NDA's campaign blitz titled Shining India.
In 2004, Sonia went across the length and breadth of India, addressing problems of poor and weaker sections and of minorities. These sections extended full support and brought the Congress-led UPA to power.
It was Sonia Gandhi, who in 2004, raised a simple question before the NDA: "Why are they (BJP) afraid of a woman?"
For the present, the Congress is staring at its worst performance of 1999, when it won 114 seats, its lowest total in parliamentary history.
Party strategists are confident that the present phase of despondency will be over, once the huge Congress poll machinery is set into motion, even though turncoats may ditch like mice from a sinking ship.
Sonia Gandhi personally called up Capt Amrinder Singh to take on Arun Jaitley in Amritsar, though the captain was unwilling initially.  She also literally forced Ghulam Nabi Azad and Ambika Soni to jump into the fray.  And with that, was jettisoned Rahul Gandhi's vision of bringing in young and fresh faces to fight the elections. Now, winnability has become the sole criterion.