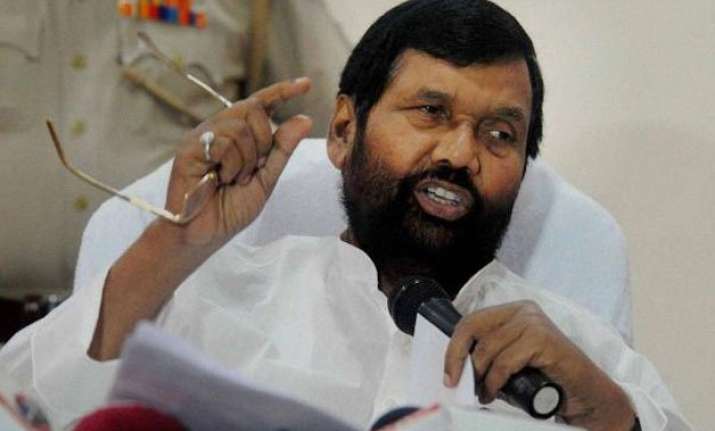 Patna: The LJP on Sunday claimed Congress president Sonia Gandhi was 'insulted' by the organisers at the Grand Secular Alliance's 'Swabhiman Rally' at Gandhi Maidan by making her speak before the leaders of JD(U) and RJD.
"One may not agree with the Congress ideology, but its president Sonia Gandhi deserves respect due to her seniority... but, she was not accorded respect by the organisers of 'Swabhiman Rally' and made to speak much before leaders of the JD(U) and RJD," Lok Janshakti Party (LJP) supremo Ramvilas Paswan's son Chirag Paswan, a member of Lok Sabha from Jamui, told reporters here.
Gandhi spoke before Chief Minister Nitish Kumar, JD(U) national president Sharad Yadav and RJD chief Lalu Prasad.
Chirag also questioned the seating arrangement at the rally where Gandhi was made to sit next to the Chief Minister and given that it was a political function, she should have sat in the row of the presidents of attending political parties.
Meanwhile, BJP hit back saying the "promoters of politics of family rule, opportunism and corruption" have come together to target it and accused the Congress chief of telling "lies" to attack the Centre.
As Gandhi attacked the Modi government over "diluting" MNREGA and its Pakistan policy, BJP said the whole world had acknowledged India's tough stand on terrorism but she spoke "lies" while her son and deputy Rahul Gandhi went to border to question the Centre instead of Pakistan.
"The promoters of family rule, opportunism and corruption were today at one platform... Sonia Gandhi, you should have shown some shame. You told lies on Pakistan," Union Minister and senior BJP leader Ravi Shankar Prasad told a press conference.
Under the BJP government, allocation to MNREGA had been increased by Rs 5000 crore and it was not diluted as alleged by Gandhi, he said.
Seeking to corner the Congress over her sharing dais with the RJD chief, a convict in a fodder scam case, Prasad said it was a "cruel joke" that she praised his rule in Bihar, saying it was an "insult" of Bihar, which is likely to see assembly polls in October-November.
BJP dubbed the grand alliance's 'Swabhiman' rally as "apman rally".
"There was no issue of development in today s rally.
There were no women, dalit and poor," he said, mocking Gandhi for her "supporting role" with Kumar and Prasad being the "mascot" and "director" of the Jungle Raaj-II.
Slamming Congress Chief Sonia Gandhi for questioning government about its stand on Pakistan, Prasad said that the government has taken a tough stand on the matter. "We have made it clear that we will not tolerate terrorism," he said.
Drawing a comparison with the rallies held by Prime Minister Narendra Modi, Prasad said that today's rally was a failure as the crowd was not even half of Modi's four combined rallies.
He also attacked Nitish Kumar for drawing a comparison between him and Chandragupta Maurya and Samrat Ashok and Jayaprakash Narayan saying he thinks that 'he is Bihar' and 'Bihar is him'.
In an apparent reference to speakers in the rally reaching out to different various castes, he said rank casteism is being promoted by the leaders of the grand alliance while BJP-led NDA believes in taking everybody along.