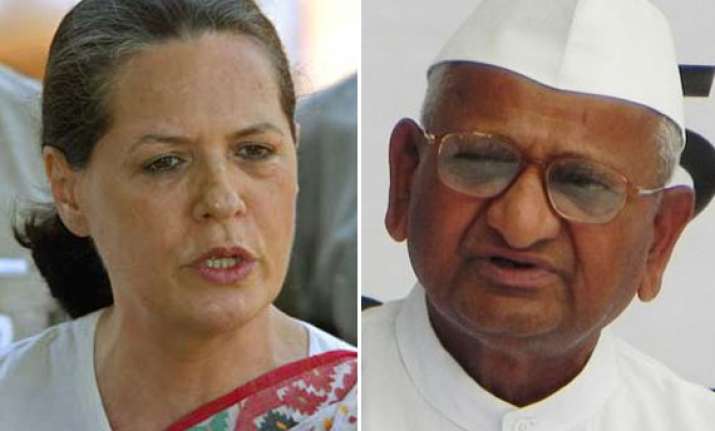 New Delhi, Jun 4: A combative Congress President Sonia Gandhi today made a scatching attack on the opposition and civil society for levelling "baseless" allegations against the Prime Minister and the party, saying it was part of a conspiracy and told partymen to fight back. 
"In a democracy, it is the job of the opposition to oppose but the manner in which opposition and some anti-Congress elements are, as part of a conspiracy, levelling baseless allegations against the Prime Minister, the UPA government, the party and some of our colleagues, is a matter of regret," she said in her opening remarks at the meeting of the Congress Working Committee. 
"We will have to fight fiercely against such allegations at the party and the government levels," Gandhi said with Prime Minister Manmohan Singh by her side.  
Without referring to the petrol price hike, she said there have been economic challenges too that are impacting the common man. "The whole world was passing through a difficult phase and we have to face it and we are facing it".  
She said the report to the people brought out on the third anniversary on the UPA government was a "document of success inspite of the difficulties." 
Without directly referring to any particular issue, she utilised the occasion to criticise non-Congress governments in the states alleging that they are not cooperating as is expected in a democracy in implementing the policies made by the Centre. 
Gandhi said that the party has to be strengthened at all levels ahead of a series of state elections as also the Lok Sabha polls in 2014. 
"And for this, the most important thing is that we all work unitedly," she said.