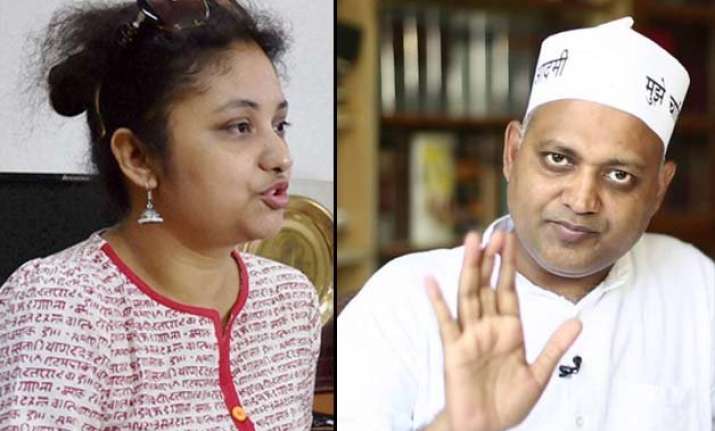 New Delhi: Taking a dig at Aam Admi Party MLA Somnath Bharti's 'beautiful women' remarks, his wife today said she was ill treated by him only because of her average looks.
"I am an average looking woman, maybe that's why I was ill treated by him," said former Law Minister's wife Lipika Mitra.
Lipika recently filed a domestic violence complaint against her husband at Delhi Commission of Women (DCW). She accused him of physically torturing her. In her complaint, she accused Bharti of leaving a dog on her.
Bharti, on Monday created a flutter by saying that "beautiful women" would be able to go out at midnight if Delhi Police is brought under the AAP government.
"I am fully confident that if Delhi government is given full freedom (over security), beautiful women will be able to go out even after midnight without any fear. We will provide a fully-secure Delhi..." Bharti said during a discussion on setting up of 'Commission of Inquiry' in the Delhi assembly.
If that was not enough, Bharti made matters worse for him by further saying that he meant "beautiful women laden with jewelries".
He wrote on his Facebook account, "I request media friends not to twist my statement: I have said "beautiful women laden with jewelries can travel at midnight fearlessly is the kind of benchmark one can measure security level at Delhi against, if AAP has police control". And ppl like Ms. Sharmistha Mukherji can't even understand the meaning of this statement whose brother had gone to insult the protesting women by calling them dented-painted. Have some shame n don't politicize just for the sake of politics!!!"
"He clearly isn't concerned about my security but only the security of "beautiful" women," said Lipika while reacting to Bharti's comment.
Bharti's remark attracted sharp criticism from several political and social organisations.
"Somnath Bharti is a serial offender as far as his mentality for women is concerned. Such sexist comments are not dignified," said communist leader and women rights activist Brinda Karat.