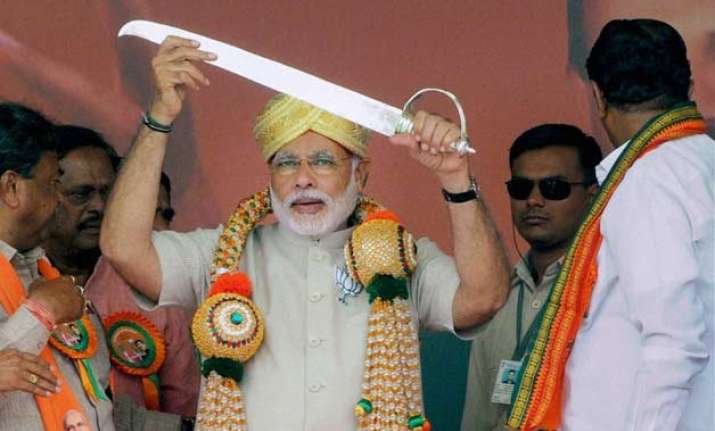 Washington: Prime Minister Narendra Modi built his image as politician who could cater to the aspirations of a modern India through social media. He is among the most followed political personalities on social media and this presence has helped him create an image that is not of a typical right-wing leader, said a new US study.
University of Michigan scholar Joyojeet Pal in a paper titled "Banalities Turned Viral: Narendra Modi and the Political Tweet," said Modi "The very appearance of his using social media effectively is in itself valuable in reshaping his public image as a technology-savvy leader, aligned with the aspirations of a new Indian modernity."
Among the most followed politicians on Twitter, he is currently at second position, just behind American President Barack Obama.
"The capture of social media allowed Modi to cater to aspirations for a modernity that mirrored blueprints from the global North. The BJP no longer stood only for older Hindu men in saffron. Instead, here was a man who could take a selfie with one hand and use the other for a trident when needed," the paper said, adding that or the first time in its history, "the BJP leader emerged as more central to the public discourse than the ideology he stands for."
Twitter helps Modi directly reach a significant constituency of listeners, and use it as a channel to talk to the main stream media, says the study.
The study mentions Modi's tweet after his party BJP won the national elections last year when he wrote on his twitter handle, "India has won." It has become the most "retweeted" and "favorited" message in India's social media history," says the study.
Talking about Modi's image building, Pal said, "Modi's online image is carefully crafted. His social media outlets feature photographs that fit within a larger brand image that at once straddles two spaces—a man who represents values and tradition and a man who represents globalized modernity. Social media allow control over the initial dissemination of the news and imagery, and the use of various outlets simultaneously has helped build this image."
An assistant professor at UMich's School of Information, Pal said, "The young demographic of Twitter users in India are from a generation that has grown up with little memory with the riots of 2002. The enduring memory of Modi for them will be the political maverick who talks directly to the people, whether through Twitter or via his popular radio and YouTube missives called MannkiBaat. For a party long branded as appealing to constituents of traditional Hindutva values, the use of technology in the party's reimagination has been particularly salient."
During his tenure as Prime Minister, Modi's tweets have also changed. He posts fewer political statements and more casual messages, such as greetings, condolences and updates of his addresses.
''Modi uses Twitter as a personal signal than for issues, per se. For instance, he goes between 'karyakarta' to a 'mai baap style' (worker to a benign ruler). This is different from say Obama who has kept up with agenda-based tweeting,'' Pal said.
If he keeps it up, Pal said, Modi will overtake Kim Kardashian on Twitter, "and we won't be able to say that we didn't see that coming." Kardashian (in 65th place) has 14.2 million followers compared with Modi's 12.3 million (85th place). At the top are entertainers Katy Perry (69 million) and Justin Bieber (63 million), followed by Barack Obama with 59 million followers.