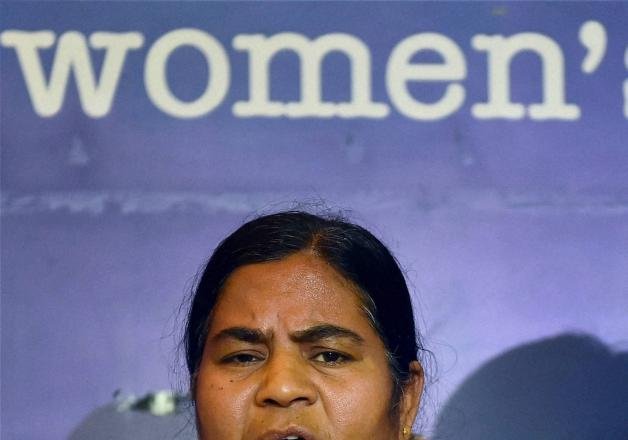 New Delhi: Dalit student Rohith Vemula's mother on Friday launched a scathing attack on HRD Minister Smriti Irani, accusing her of resorting to 'blatant lies' while talking in Parliament about her son's suicide.
Radhika Vemula, flanked by her other son Raja, said BJP will be 'decimated to the ground' if Prime Minister Narendra Modi does not take any action against Irani and her ministerial colleague Bandaru Dattatreya who had written multiple letters to her seeking action against Rohith, alleging anti-national activities.
"Irani, this is not a small screen to act, this is real life. Bring out the facts, don't fabricate them. How many parents you would like to suffer. Irani has lied multiple times while speaking on the issue in Parliament. Why has action not been taken against her?" Rohith's mother told reporters yesterday.
Speaking in Parliament, Irani had on Wednesday tried to deflect criticism and mounted a strident attack on the opposition accusing it of "politicizing" the PhD scholar's death. She had said that the committee which acted against Rohith had a dalit representative and that doctors were not allowed to revive him after he was found hanging.
Rohith's brother Raja dubbed Irani's comments as 'blatant lies', saying he reached the campus by 8.30pm and saw police and doctors where his body was kept.
"Even life imprisonment will not be enough for the ministers, vice-chancellor and the ABVP activists who were responsible for my son's death. BJP will be decimated to the ground if Modi does not address the issues. We demand formation of an SIT to probe the case," Radhika said.
26-year-old Rohith was found hanging at a hostel room in the university on January 17, days after punitive action was taken against him and four other students for allegedly attacking an ABVP functionary.
Radhika lamented that the question of caste is raised time and again to "deviate" from the real issue of delivering justice for Rohith's death. She also demanded an explanation from PM Modi on Rohith being branded "anti-national" and an "extremist".
Rohith's friend Prashant, who was also expelled by the Hyderabad University, cited minutes of the executive council meeting of Hyderabad University, claiming that action was taken against them "in response" to communication from the HRD Ministry to not allow the students to continue academic activities.
Prashanth alleged that in response to the communications received from the HRD ministry, the 11-member executive council of the university, "that did not have any dalit member" acted against the students.
"Irani said the council members were all appointed by the UPA. But the fact is that the chairman of the council VC Appa Rao was appointed by her ministry. Political involvement of BJP has led to the suicide of Rohith," he said.
Prashanth also slammed Irani for reading out certain Facebook posts of Rohith that were critical of CPM general secretary Sitaram Yechury over absence of dalits from its leadership.