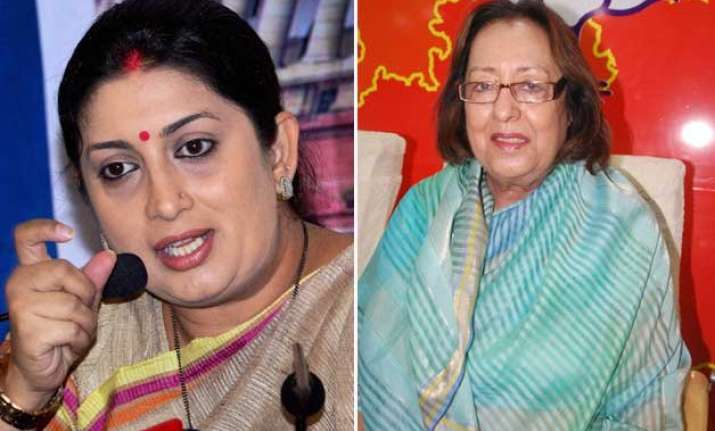 New Delhi: HRD minister Smriti Irani, minority affairs minister Najma Heptulla and Mathura MP Hema Malini are among the prominent faces whom BJP chief Amit Shah dropped from party's national executive announced on Thursday.
While many other big names of previous team have been retained in the new council, former union minister Syed Shahnawaz Hussain and Sudhanshu Trivedi, a close aide of home minister Rajnath Singh, are among the ones who have been dropped from the top panel.
However, the party clarified that the Thursday list was in addition to the national office bearers who remain member of the panel.
"Those who are office bearers and heads of different Morchas are members of the executive. The Thursday list is about the others," said BJP secretary Shrikant Sharma, also party's in-charge for Himachal Pradesh.
The panel also includes firebrand leaders like Yogi Adityanath, Sadhvi Nirajna Jyoti and Varun Gandhi. Sultanpur MP Gandhi was dropped as the national general secretary by Shah in the reshuffle after general elections.  
Minister of state for finance and former finance minister Yashwant Sinha's son Jayant Sinha and veteran leader Subramanian Swami have also been given places in the national executive.
State level leaders like Delhi's former leader of opposition Vijay Kumar Malhotra, former Lucknow MP Lalji Tandon and Kerala leader O Rajagopal are also accommodated in the top panel.
Former Amritsar MP Navjot Singh Sidhu, Rajasthan governor Kalyan Singh's parliamentarian son Rajveer Singh, Patna Sahib MP Shatrughan Sinha and former editor of RSS mouthpiece 'Organiser' Sheshadri Hari have also been made members of the group.
National Executive members and others will gather in Bangalore for a two day conclave between April 3 and 4, which would be preceded by a meeting of national office bearers on April 2.
There, the members will take stock of organizational matters including membership drive, recent poll debacle in Delhi and election challenge in Bihar later this year while reiterating party's position on issues like terrorism and separatism that has been giving it jitters after the release of separatist leader Masrat Alam by the alliance government in J&K.
This would be the first meeting of the party's executive committee after Shah took over as the BJP chief in July last year.