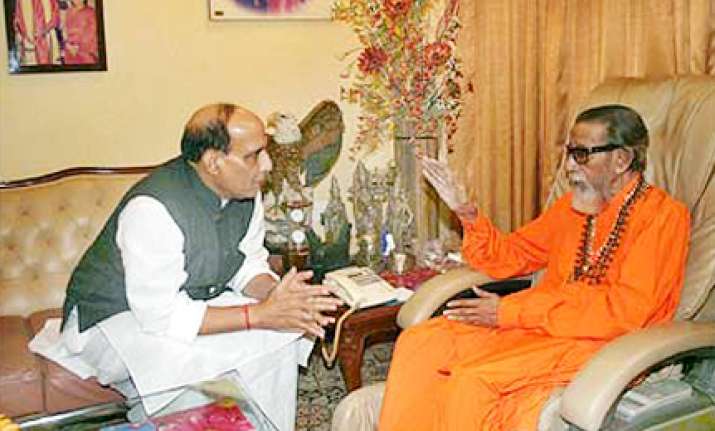 The Shiv Sena and BJP announced that they have reached a seat-sharing agreement for the October 13 Maharashtra assembly elections. 
"Shiv Sena will contest 169 and BJP 119 seats for the 288-member Assembly," BJP General Secretary Gopinath Munde told reporters in suburban Bandra.  
"Our dream is to come to power in Maharashtra by ousting the Congress-NCP government. Who becomes the Chief Minister is immaterial," Munde said at a press conference in Rang Sharda. 
Sena chief Bal Thackeray had directed us to formally announce the alliance on 'Ghatsthapana Day' today, he said, adding he would also address the victory rally of the Shiv Sena-BJP alliance.
State BJP President Nitin Gadkari said the list of BJP candidates would be finalised in Delhi this evening. 
"Gadkari would take a decision on allotting a constituency to Poonam Mahajan, daughter of slain BJP leader Pramod Mahajan," Munde said. 
The Sena-BJP alliance will have a joint election manifesto, he said.  
BJP has agreed to give to Sena the Guhagar seat in coastal Konkan region, from where leader of Opposition Ramdas Kadam will contest, Munde said. 
The Guhagar seat had become a hurdle in Sena-BJP negotiations as the seat is currently held by Vinay Natu of the BJP, which had so far resisted attempts by Sena to claim the seat. 
Asked how will BJP placate Natu, Munde said, "We will make him see reason."