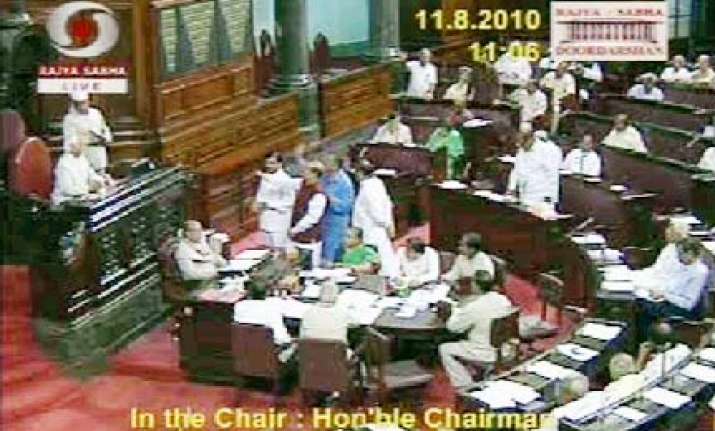 New Delhi: Shiv Sena members on Wednesday stalled the Question Hour in the Rajya Sabha briefly to demand an immediate discussion on the Maharashtra-Karnataka boundary dispute, leading to adjournment of the House for 15 minutes.
As soon as the House met for the day, Manohar Joshi (Shiv Sena) was on his feet saying he has given a notice for suspension of Question Hour to discuss the issue as well as the alleged atrocities on Marathi-speaking people in Belgaum district of Karnataka.
Chairman Hamid Ansari, however, disallowed the notice but unrelenting Shiv Sena members trooped into the well to the issue more forcefully.
After repeatedly requesting the members to take their seats, he adjourned the House for 15 minutes.
Joshi, a former Lok Sabha Speaker, insisted that a matter on which hearing has not started in the court can be discussed in the House.
"Your request has been considered carefully... This calls for a ruling," Ansari said but could not give his ruling as Shiv Sena members kept raising the issue loudly near the podium.
"People are suffering, why cannot it be discussed," Joshi asked. "Injustice has been done to Marathi-speaking people in Belgaum."
"Sub-judice matters can be discussed in the House. Union Carbide issue is also a sub-judice matter," he said in an apparent reference to a short duration discussion listed in day's proceedings.
Ansari said the issue cannot be argued by a member who does not speak from his seat.
"If this is an effort to restrain the Chair from giving a ruling, then this is a very sad day," he observed, asking members to go back to their seats. "We have to go by procedures. We have received a firm advice (against discussing the sub-judice boundary dispute in the House)."
The Supreme Court, he said, was seized of the matter.  However, Union Minister Vilasrao Deshmukh intervened to say that the Shiv Sena members were not raising the dispute as such, but were expressing concern over atrocities on Marathi-speaking people in Belgaum.