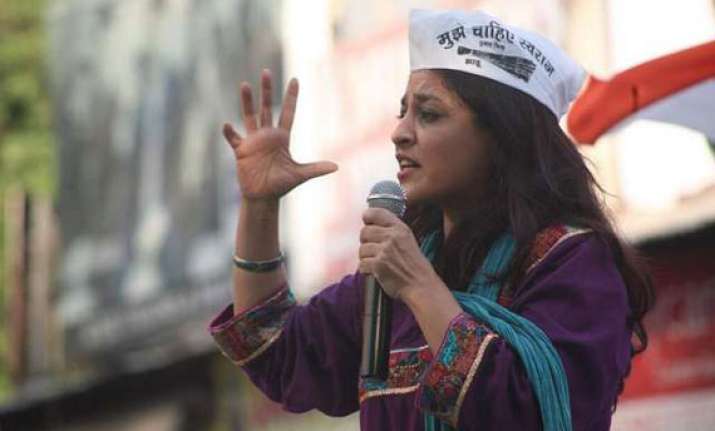 Ahmedabad: AAP leader Shazia Ilmi today accused Narendra Modi of being an agent of industrialists and said there was no 'Modi wave'. 'There is no Modi wave (lehr), there is a poison (jehr) . This wave is a bought one.'
'You (Narendra Modi) called Arvind Kejriwal AK 49, an agent of Pakistan, whose agent are you? You are an agent of big industrialists while Arvind Kejriwal is an agent of Aam Aadmi,' Ilmi said, addressing a public gathering at Vatva area here.
She was canvassing for AAP candidate from Ahmedabad East Dinesh Waghela.
Taking a jibe at Modi's personal life, the AAP leader said, 'We hear that a child is born in a family. But in last few days we have heard and watched the news that a wife has been born.'
She said that Modi was suffering from amnesia that is why he has forgotten senior party leaders, 'he forgot his wife too and he will forget people also... if lotus (BJP symbol) blooms, you people would wither away.'
Police, meanwhile, asked her to stop her speech midway as campaigning hours were over.
Later, talking to media, Ilmi said her controversial appeal to Muslims to be 'communal' had been made on a sarcastic note.
'I have made a sarcastic comment and I just told that Muslims should think about their community, they should think of providing better healthcare and better education to their kids,' Ilmi said.